Sinister
(2012)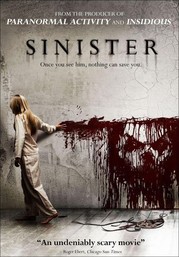 TOMATOMETER
AUDIENCE SCORE
Critic Consensus: Its plot hinges on typically implausible horror-movie behavior and recycles countless genre cliches, but Sinister delivers a surprising number of fresh, diabolical twists.
Sinister Trailers & Photos
Movie Info
Sinister is a frightening new thriller from the producer of the Paranormal Activity films and the writer-director of The Exorcism of Emily Rose. Ethan Hawke plays a true crime novelist who discovers a box of mysterious, disturbing home movies that plunge his family into a nightmarish experience of supernatural horror. -- (C) Summit
more
Cast
News & Interviews for Sinister
Critic Reviews for Sinister
Audience Reviews for Sinister
It's been a long time since I can say that a horror flick instilled horror in me...but this one scared the beejeebers out of me. I was completely creeped out throughout the entire movie. Even the background music, and sound effects, were spooking me. I am most definitely going to have trouble sleeping with the lights off tonight. Yikes!
I was haunted by the ghostly snuff films; something about the scratchy old 8mm films and the satanic music which accompanies the images creeped me out. The rules of the cursed films is quite interesting when realized. Ehan Hawke's curiosity gets the better of him and his family. The plot of the tortured author is getting a bit tired. The boogedy demon in charge of the curse is quite freaky. Things tend to go to hell in the second half, but it fits with the curse. The scene of their boy in the box seemed like a tacked-on red herring to the real horrors. The internet expert and police assistant were a bit silly. The ending was no surprise with not enough tragedy shown to be considered a payoff after sitting through so many scenes of building creepiness.
Sinister Quotes
Ellison Oswalt: Bad things happen to good people and they still have to have their story told.
Ellison: Tracy, nobody died here. It's not like we're sleeping where somebody was killed or they had to wipe blood off the walls for the open house.
Tracy: You're saying it didn't happen here?
Ellison: No, no. It happened in the backyard.
Tracy: That is so sick! God, you think that makes a difference?
Ashley: Don't worry Daddy, I'll make you famous again.
Tracy: There are plenty of other ways you can provide for this family.
Ellison: Doing what? Teaching? Editing journalism textbooks? Don't you understand that writing is what gives my life meaning? These books are my legacy!
Tracy: I have always supported you doing what you love, Ellison. But writing isn't the meaning of your life. You and me, right here, this marriage: that's the meaning of your life. And your legacy? That's Ashley and Trevor. Your kids are your legacy.
Discussion Forum
Discuss Sinister on our Movie forum!
News & Features