Sleepless Night
(2012)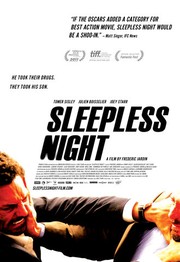 Sleepless Night Trailers & Photos
Movie Info
Vincent is a well-respected cop, as well as a devoted husband and father. But below the surface of his idyllic life, Vincent is involved with a very dangerous group of gangsters and drug dealers. When Vincent and his partner are caught stealing a massive quantity of cocaine from a powerful drug lord, the darker side of Vincent's life threatens to destroy his family and career. In a race against the clock, Vincent must return the drugs in order to save his son's life. This proves to be easier said than done, as the world around him seems to conspire to keep Vincent from doing what is necessary to protect his son. -- (C) Tribeca Film
more
Cast
News & Interviews for Sleepless Night
Critic Reviews for Sleepless Night
Audience Reviews for Sleepless Night
Directors Cat
Super Reviewer
Marciano: Is that all?
Vincent: The rest is in a safe place.

Remember what happened to action movies after Die Hard came out? A lot of action films were made that basically amounted to things like "It's Die Hard on a boat" or "It's Die Hard on a train" to varied levels of success, but one thing was for sure, Die Hard changed how a lot of people and studios wanted to make action films. That has somewhat subsided in favor of other types of action cinema, ranging from the slow-mo escapades of John Woo-like films to the bombastic extravaganzas of Michael Bay features, or the shakiness inspired by Paul Greengrass's work on the Bourne series. Sleepless Night is a French thriller that feels like a call back to the Die Hard days, placing an ordinary man in incredibly tense, violent, and stressful situations within a nightclub. It is well made from an impressively complex level rather than a stylish one and features action bits that feel very natural. Some minor plot flaws aside, the film is solid.

read the whole review at thecodeiszeek.com

read the whole review at www.thecodeiszeek.com
"Sleepless Night" starts with Vincent(Tomer Sisley) and Manuel(Laurent Stocker) robbing an illegal drug shipment. Since one of the victims brought a knife to a gun fight, things do not go perfectly as Vincent is stabbed and there is one dead. That is now one crime that Vincent and Manuel have to investigate in their day job as police detectives. Oh, and Jose Marciano(Serge Riaboukine) would very much like his drugs back, if it is not too much trouble, as he has Vincent's son Thomas(Samy Seghir). The exchange would have gone well if Vignali(Lizzie Brochere), an internal affairs detective, had not been trailing him and moved the drugs from its hiding spot. She reports all of this to Lacombe(Julien Boisselier), her supervisor, who is in cahoots with Manuel.

"Sleepless Night" proves that all you need for a well-crafted lean and mean crime thriller is some drugs, guns and one cool location, plus maybe a sense of humor. Of course, you have to keep the plates spinning non-stop which this movie does with a great deal of skill. Plus, it helps that all the depserate characters each have their specific motivations. However, there is a twist half way through the movie that takes some of the edge off but nobody's perfect. And by the end, I realized that for a movie involving a kidnapped child, this movie is surprisingly not mawkish in also being about a father's love for his son.
Discussion Forum
Discuss Sleepless Night on our Movie forum!
News & Features