Slither
(2006)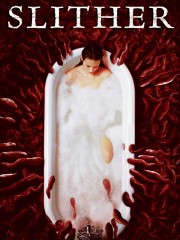 TOMATOMETER
AUDIENCE SCORE
Critic Consensus: A slimy, B-movie homage oozing with affection for low-budget horror films, Slither is creepy and funny -- if you've got the stomach for it.
Tickets & Showtimes
Slither Trailers & Photos
Movie Info
The sleepy town of Wheelsy could be any small town in America -- somewhat quaint and gentle, peopled with friendly folks who mind their own business. But just beneath the surface charm, something unnamed and evil has arrived...and is growing. No one seems to notice as telephone poles become clogged with missing pet flyers, or when one of the town's richest citizens, Grant, begins to act strangely. But when farmers' livestock turn up horribly mutilated and a young woman goes missing, Sheriff Bill Pardy and his team, aided by Grant's wife Starla, uncover the dark force laying siege to their town...and come face-to-face with an older-than-time organism intent on absorbing and devouring all life on Earth.
more
Cast
News & Interviews for Slither
Critic Reviews for Slither
Audience Reviews for Slither
Bruce Bruce
Super Reviewer
A fun horror film that is full of gore, disgusting sight gags, and characters that seem fresher and far better constructed than the slasher and possession films streaming out of Hollywood lately. Even for a film that wasn't a success right out the gate, it is still bigger and more impressive than many other films in its genre. For example, this film boasts an impressive cast of semi-famous character actors, including Nathan Fillion (Firefly), Elizabeth Banks (Pitch Perfect), and Michael Rooker (The Walking Dead). The actual genre of the film is subject to argument because it is surely comical in its incredulity, science fiction through its use of alien creatures as the villains, and horror, as these intergalactic slugs take over a backwoods hick town. The town is generic hillbilly fodder, but also strangely wrong and dirty, in a way only schlock can correctly characterize. The story follows the citizens of a town as it starts its yearly deer hunting celebration. A meteor crashes into a section of woods where a drunken miser missteps with an equally drunk floozy, and gets sodomized with an alien prong, which takes his body over. This leads to him becoming a blob, setting his spawn upon the town, and turning people into zombies, all connected to the original, impeded in the brain of the man from the woods. This alien, inside the man, falls for the man's wife, and is constantly trying to capture her as she flees with the town's police. Some of the effects in the film are especially graphic and vulgar in the way they look and are presented. The film melds "Invasion of the Body Snatchers" with "Night of the Living Dead", but also features some very gross out scenes of gore for those who love cult horror. It has a little bit of everything and always wins because it doesn't take itself too seriously. Truly one of the better horror films of the decade and one of the smarter ones as well.
Slither Quotes
Tourneur: It looks like something that fell off my dick during the war.
Sheriff Bill Pardy: Well, now, that is some fucked-up shit.
Sheriff Bill Pardy: So how's everybody's evening, good? Good.
Jack MacReady: [referring to Starla] Bitch is hardcore.
Discussion Forum
Discuss Slither on our Movie forum!
News & Features