Smoke Signals
(1998)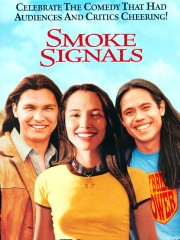 Tickets & Showtimes
Smoke Signals Trailers & Photos
Movie Info
The unavoidable synopsis -- two young American Indians leave the reservation to resolve their problems and to find themselves -- belies the poetry of this well-acted, well-directed and largehearted movie.
more
Cast
News & Interviews for Smoke Signals
Critic Reviews for Smoke Signals
Audience Reviews for Smoke Signals
I recently finished reading Sherman Alexie's "The Absolutely True Diary of a Part-Time Indian" and felt compelled to revisit Smoke Signals for about the 8th or 9th time. I love this film a little more every time I view it, which is easy to do considering that the first time I saw it I just wasn't that impressed. I had felt that, in their quest to have the first "All Indian" movie, they had sacrificed a little quality and technical expertise. Maybe I still feel that's true but it's not something I notice much any more. Now I find myself engrossed in the rich characters, especially Arnold (Evan Adams). Arnold is a misfit and yet he might be the most 'indian' character in the entire ensemble. He's bright, he's introspective, and he's terribly, terribly honest. Even when he's embellishing stories he is still exposing truths.

Much like it's screenwriter, Smoke Signals is deceptively deep, intelligent and philosophical even if it's not perfectly crafted. .
Randy Tippy
Super Reviewer
½
All right...objectively, this is just not a very good movie. The two main characters are an unlikable prick and an unlikable nerd, respectively, and the themes are telegraphed and insultingly obvious. But Smoke Signals is important simply because of its lineage - and even though it's not that great, it's a difficult film to dislike. It's very earnest.

I guess if your only exposure to Native Americans in film is, like, Indian in the Cupboard, this movie would be well worth seeing. As a cinematic craft, not so much.
Smoke Signals Quotes
Victor Joseph: You gotta look mean, or people won't respect you. White people will run all over you if you don't look mean. You gotta look like a warrior. You goth look like you just came back from killing a buffalo.
Thomas Builds-the-Fire: But our tribe never hunted buffalo. We were fishermen.
Thomas Builds-the-Fire: Hey Victor! I'm sorry 'bout your dad.
Victor Joseph: How'd you hear about it?
Thomas Builds-the-Fire: I heard it on the wind. I heard it from the birds. I felt it in the sunlight. And your mom was just in here cryin'.
Thomas Builds-the-Fire: Hey Victor! I remember the time your father took me to Denny's, and I had the Grand Slam Breakfast. Two eggs, two pancakes, a glass of milk, and of course my favorite, the bacon. Some days, it's a good day to die. And some days, it's a good day to have breakfast.
Thomas Builds-the-Fire: Hey Victor!
Discussion Forum
Discuss Smoke Signals on our Movie forum!
News & Features