Sound and Fury
(2000)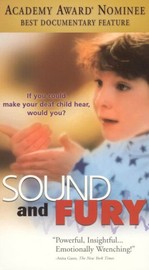 TOMATOMETER
AUDIENCE SCORE
Critic Consensus: This documentary presents its opposing views in an even-handed yet emotionally engaging manner. Critics say it will provoke much thought, as well as emotions, in the audience.
Tickets & Showtimes
Movie Info
While most people would view the inability to hear as a handicap, there are a growing number of hearing-impaired individuals who regard themselves as a cultural minority whose rights should be respected as one would treat a member of any ethnic or religious minority -- and that includes the right to remain deaf if they so choose. The documentary Sound and Fury explores the culture of the deaf as reflected by the Artinian Family of Glen Cove, New York. Chris and Mari Artinian are parents whose daughter was born deaf. Newly developed cochlear implants would allow their daughter to have normal hearing, and they agree to the surgery to allow their child greater opportunities in life. However, Chris' brother Peter was born without hearing, as was his wife and their three children, and he angrily refuses to consider the surgery for himself or his immediate family, convinced that such scientific tampering is wrong and that having spent his life without hearing, he wouldn't choose to live any other way. Needless to say, Peter often clashes with Chris over the decision to have his daughter fitted with the implants; Peter has similar problems at home when his own daughter announces through sign language that she'd be interested in the treatment herself. Sound and Fury was screened in competition at the 2000 Sundance Film Festival.
more
News & Interviews for Sound and Fury
Critic Reviews for Sound and Fury
Audience Reviews for Sound and Fury
Wildly articulate, intelligent and highly emotional without being volatile, this film gives voice to the options surrounding cochlear implants and it's threatening effect perceived by the deaf community.
Wonderfully personal and intimate; profoundly, deeply moving, see vulnerable people open up about their experiences.
On the DVD, see the extra 20 min of extra interviews which gives even more insight - an example of someone who rejected the implant, and another who had difficulty and yet embraced it.
I also recommend finding the 2013-14 TEDtalk of Heather Artinian - the central little girl of the doc - who speaks about what she has learned since, and her brilliant philosophy she's developed bc of her experiences.
Brilliant, illuminating, authentic and ultimately inspiring.

5 out of 5
½
I loved this documentary. It goes into the life of two related families who are both trying to decide whether their children should receive a cochlear implant. One family has two hearing parents (the mom was brought up by two deaf parents) who have twins and find out that one of them is deaf. While the other family has two deaf parents who have a daughter who asks them if she can receive an implant. While the movie itself can get very frustrating because you're only seeing one family circle where all the parents are putting their wishes on their children, it is so emotional and thought-provoking. For me, it was the first time that I was exposed to this idea of deaf culture and the deaf community. I really enjoyed the amount of emotion that this movie conveys, and I just wish it could've spread out this story to cover more than just these two families.
Discussion Forum
Discuss Sound and Fury on our Movie forum!
News & Features