Spider-Man
(2002)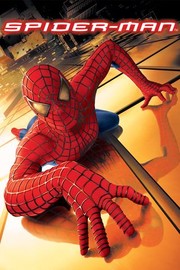 TOMATOMETER
AUDIENCE SCORE
Critic Consensus: Not only does Spider-Man provide a good dose of web-swinging fun, it also has a heart, thanks to the combined charms of director Sam Raimi and star Tobey Maguire.
Spider-Man Trailers & Photos
Movie Info
After incorporating elements of comic book style and design into many of his films, director Sam Raimi helms this straight-ahead, big-budget comic book adaptation, which also marks acclaimed young actor Tobey Maguire's first dip into live-action blockbuster filmmaking. Spider-Man follows the template of the original Stan Lee/Steve Ditko source material, with hero Peter Parker an orphaned, intellectual teen loner living in Queens with his aunt (Rosemary Harris) and uncle (Cliff Robertson), and dreaming of the girl next door, Mary Jane (Kirsten Dunst). On a field trip to a Columbia University lab, Peter is bitten by a genetically altered spider and overnight he gains superhuman strength, agility, and perception. At first, Peter uses his powers for material gain, winning a wrestling match with a purportedly lucrative prize. But when Peter apathetically fails to stop a burglar from robbing the wrestling arena, a tragedy follows that compels him to devote his powers to fighting crime -- as the superhero Spider-Man. When he's not busy fighting crime in a spider suit, Peter moves into an apartment with his best friend, Harry (James Franco), and begins work as a photographer at the Daily Bugle. Meanwhile, his do-gooder alter ego finds a nemesis in the form of the Green Goblin (Willem Dafoe), a super-powered, megalomaniacal villain who happens to be the alter ego of Harry's father, weapons-manufacturing mogul Norman Osborn. Spider-Man was written by the prolific blockbuster scribe David Koepp (Jurassic Park, Panic Room). ~ Michael Hastings, Rovi
more
Cast
News & Interviews for Spider-Man
Critic Reviews for Spider-Man
Audience Reviews for Spider-Man
½
One of Marvel's flagship characters finally makes it to the big screen and with Sam Raimi at the helm, you have a sure-fire winner. The first half of the film is as expected, fantastic. It has just the right balance of humour and action and although Tobey Maguire's acting talents are rather limited, he manages to pull off the dorky charm of Peter Parker with some success. There's a lot of humour in the discovery of his powers and how to use them and the supporting characters are all believable. It also shows the motivations and character development of Spiderman really well and rarely descends into schmaltz. Unfortunately once the tights go on, things are not quite as strong. The Green Goblin was never a particularly interesting character and although the schizophrenia plot line is clever, Defoe holds the attention far more as the disappointed father than a dayglo action figure on a hover board. Raimi handles the action nicely though and it's worth it alone for J. K. Simmons whose hilarious J. Jonah Jameson steals every scene he is in.
Even with all it's cheesiness, Sam Raimi's "Spider-man" stands as one of my favourite superhero movies, and it has one of the greatest superhero stories to be told. It may have it's cheesiness running throughout, but who better to present us with that, than the one and only Sam Raimi. Almost every superhero film can be laughed at through it's corn, but the fact is, when you watch a piece of fiction, it doesn't matter whether it's believable or realistic, because it's meant to be fake. "Spider-Man" is my favourite superhero, and this is one of the best origin films out there today. It may not follow the comic books very well, but when you have a film that is constructed as well as this, you cannot make an argument that this film is bad. I really enjoy watching this film, even though it becomes a little too silly at times.
Spider-Man Quotes
Dr. Mendel Stromm: We need to take the whole line back to formula.
Green Goblin/Norman Osborn: Back to formula?
Spider-Man/Peter Parker: Some spiders change colors to blend into their environment. It's a defense mechanism.
Harry Osborn: Peter, what makes you think I'd want to know that?
Spider-Man/Peter Parker: Who wouldn't?
Norman Osborn/Green Goblin: I've been like a father to you. Be a son to me.
Peter Parker/Spider-Man: I have a father. His name was Ben Parker.
Norman Osborn/Green Goblin: God's speed, Spiderman.
Peter Parker/Spider-Man: Let mom and dad talk gobby
Discussion Forum
Discuss Spider-Man on our Movie forum!
News & Features