Stardust
(2007)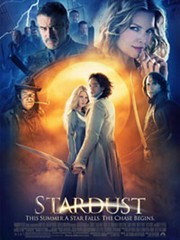 TOMATOMETER
AUDIENCE SCORE
Critic Consensus: A faithful interpretation that captures the spirit of whimsy, action, and off-kilter humor of Neil Gaiman, Stardust juggles multiple genres and tones to create a fantastical experience.
Stardust Trailers & Photos
Movie Info
The sleepy English village of Wall is so named for the cobblestone wall that has, for eons, kept the villagers safely apart form the supernatural parallel universe that lies just on the other side. It is here that young Tristan Thorne makes a wild-eyed promise to the prettiest girl in the village, whose heart he hopes to win: that he will bring her back a fallen star. Now, in order to make good on his promise, Tristan will have to cross the forbidden wall, and enter a mysterious kingdom lit by unending magic and unfolding legends. In this fantastical realm known as Stormhold, Tristan discovers that the fallen star is not at all what he expected but a spirited young woman injured by her cosmic tumble. Now, she is in terrible danger--sought after by colossal powers including the King's scheming sons for whom only she can secure the throne; and a chillingly powerful witch desperate to use the star to achieve eternal youth and beauty. As Tristan sets out to protect the star and bring her back to his beloved on the other side of the wall, he encounters with a pirate captain and a shady trader, among other surprises. But if he can survive, Tristan will also uncover the secret key to his own identity and a fate beyond his wildest dreams.
more
Cast
News & Interviews for Stardust
Critic Reviews for Stardust
Audience Reviews for Stardust
An average fantasy but: sweeping photography of panoramic vistas aplenty, a collection of ghosts adding Greek chorus commentary about the action, and Michelle Pfieffer's glorious head witch.
Whimsical, fantastic, and mythical only in the way Neil Gaiman can write it. This adaptation from his book of the same name is perfectly fun and romantic. It's a mix between "The Princess Bride" and "Ella Enchanted," a film that evokes childhood fairytales as well as the adult nature of the original Grimm's Fairytales. There's every number of characters, including witches, sky pirates, warring princes, and a fallen star turned beautiful young woman. With stunning visuals, catty humor, and a lovable romantic pair this is a must-see film for all ages. The main problems I had with the film was the strange, slightly homophobic humor of Robert De Niro cross-dressing and putting on a "sissy" voice, and the complexity of the plot, which could have been better condensed for the film adaptation. Otherwise this was a fun, magical journey.
Stardust Quotes
Humphrey: You just bought yourself a death wish.
Narrator: They ruled for 80 years. But no man can live forever, except he who possesses the heart of a star, and Yvaine had given hers to Tristan completely. When their children and grandchildren were grown, it was time to light the Babylon Candle. And they still live happily ever after.
Yvaine: You've got a Babylon candle.
Tristan: Yeah, I have a bubbling candle.
Yvaine: A *Babylon* candle.
Tristan: That's what I said.
Yvaine: You said 'bubbling'.
Tristan: Did you really mean what you said in the caravan?
Yvaine: What I...? But... You were a mouse! You were a mouse... you wanted cheese! You didn't... I asked you to give me a sign!
Tristan: And risk you being too embarrassed to keep saying such lovely things?
Discussion Forum
Discuss Stardust on our Movie forum!
News & Features