Stranger Than Paradise
(1984)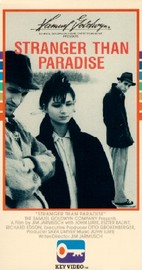 Tickets & Showtimes
Stranger Than Paradise Trailers & Photos
Movie Info
Jim Jarmusch's Stranger Than Paradise is an odd, low-key comedy about trio of misfits--an everyday guy, his Hungarian female cousin, and his geeky best friend--who decide to take a road trip across the United States on the spur of the moment. Over the course of their voyage, they have both good and bad luck, meet a number of bizarre and interesting characters, and are frequently bored. Jarmusch tells his story very slowly and sardonically, which can alienate some viewers. However, those who want to meet him halfway will find Stranger Than Paradise an engaging and unique comedy, with a number of truly funny moments.
more
Cast
News & Interviews for Stranger Than Paradise
Critic Reviews for Stranger Than Paradise
Audience Reviews for Stranger Than Paradise
Chris Weber
Super Reviewer
WIth minimal plot and cast, Jim Jarmusch creates a masterpiece on his first time out.
Stranger than Paradise can come off as shallow because it doesn't really say anything. There isn't enough dialogue that conducts to psychological profiles of the characters. There isn't a particularly great challenge or crisis they must face that can tell us anything about them that we haven't already seen. No. Still, this doesn't make the film shallow, it makes it like life itself: we don't know everything about people we meet or friends we've made, but they remain of interest to us for whichever reasons, among which is, quite simply, that they are real and we can relate to them. In Stranger than Paradise, Willie, his cousin Eva -just off the plane from Hungary-, and his friend Eddie, do and say very normal things in a limited space (the entire film is composed of one-shot scenes; zero camera movement), but their moments together are so well acted and written that they reach levels of intimacy very close to real life. I suppose that's what has given this film as many lovers as detractors; how you experience it has a lot to do with your own perception of day-to-day existence.
Willie and Eddie live in New York, they want to get rich, which is why they're always gambling or something, and when they aren't excited about betting, happy about winning or sad about losing, they drink beer in silence and sit in an ennui they don't quite comprehend. A feeling of insatisfaction and desire for change envelops the entire "plot". One day, Willie's cousin Eva, from Hungary, arrives at NYC and stays with him for a few days before going to live with their aunt in Cleveland. Initially she is quite the nuisance, but her being a brand new element in an otherwise old and bleak panorama entices Willie and Eddie's interest. A year later they decide to embark on a road trip to visit her, and then decide to escape the Cleveland winter and drive with her down to Florida.
Cinematically, roadtrips always go hand in hand with change, realizations, etc. Stranger than Paradise doesn't follow exactly along those lines, although it reaches an ending between tragic and hilarious that definitely involves change. It is a very unique film in that it goes nowhere; even locations as different as New York and Florida, filmed in stark black and white, "seem the same".
The 'meaning' behind it is unclear, although I wonder, MUST it have a meaning? Can't it just be like a photograph or an entry in someone's diary, a recollection of the truth as it is, of the moment as it happened, and nothing else? With that in mind, Stranger than Paradise is engrossing. It has laugh out loud moments and angering displays of human stubborness and stupidity. It's dark, slow, and honest. Willie, Eva and Eddie are played by very talented, charismatic actors who could be out of a new wave film, if they weren't so distinctly American (except for Eva maybe), although I can't quite explain why. This movie is undoubtedly American, infused with its culture, but the filmmaking style is far from the usual in American cinema (although Jarmusch does owe Cassavetes plenty, I know he was not American but his films are landmarks of independent film made in America). Jarmusch may have progressed towards the more 'standard' indie style that predominates today, but this is testament to his capacity and originality, and my personal favorite among his works.
Discussion Forum
Discuss Stranger Than Paradise on our Movie forum!
News & Features