Swimming Upstream
(2004)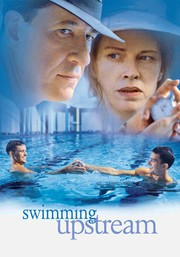 Swimming Upstream Trailers & Photos
Movie Info
The true story of Tony Fingleton, a young man from a troubled family who found the inner strength to become a champion. Set in 1950s Brisbane, Australia, the family drama centers on Tony, a young man who beats the odds to become a champion swimmer in spite of his overbearing, alcoholic father and long-suffering, but quietly heroic mother. Overshadowed in his father's eyes by his brothers, it's only when Tony displays an extraordinary swimming talent that he feels he has a shot at wining his father's heart--and maybe even Olympic gold.
more
Watch it now
News & Interviews for Swimming Upstream
Critic Reviews for Swimming Upstream
Audience Reviews for Swimming Upstream
Swimming Upstream.
Beautifully acted, but filmed with restraint.
When I say filmed with restraint, I'm referring to Swimming Upstream's underselling of itself. At times this is its weakness, while other times it's a strength. In the extremely dramatic scenes involving the family's troubles, the emotion is very raw and honest without being flashy and soap-opera-ish.
While it was fun to see Jesse Spencer out of his role on House (for real, great performance), the obvious shining light was Geoffrey Rush (who won an Oscar for Shine, see what I did there?). I'm surprised he wasn't nominated for this, because he steals the show in every single scene. Even when you're supposed to be thinking about Spencer's emotional battle, you're putting every ounce of effort into reading Rush's subtle blank stare.
They even threw in a couple of random impressively artsy cinametographical (not a word) tricks, like filming the kitchen fight from underneath through a glass floor... looked awesome. The split screen swim meets worked well also, a bit strange at times, but a good fit.

Why 80%?
Because the juxtaposition of the swimming storyline with the family turmoil was great, as well as the performances. A well-crafted movie for an inspiring story.

Extra: An ode to Geoffrey Rush...

Your disgusting jaw compelling so,
The way you ramble to and fro.
The nasty wrinkles of your cheek,
I only imagine how you reek.
Unkempt hair, skin not so fair,
Your gangly arms are hard to bare.
Yet still I watch on the edge of my seat,
Cuz your performances can't be beat.
Luke Turley
Super Reviewer
Nice movie for a quiet evening at home. Nothing to rave about, it is filmed in a very conventional manner but great acting by Judy Davis and a good insight into daily life in the Australia of the 50s.
Discussion Forum
Discuss Swimming Upstream on our Movie forum!
News & Features