Tape
(2001)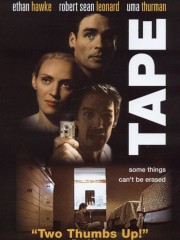 TOMATOMETER
AUDIENCE SCORE
Critic Consensus: Tape's stagebound feel is balanced by the engrossing psychodrama of its storyline, which allows a committed cast to shine.
Tape Trailers & Photos
Movie Info
Within the confines of a tawdry motor lodge in Lansing, Michigan, three old friends come together to play out the unresolved drama of their final days in high school. John, a first-time filmmaker, is in Michigan to present his film at a local film festival. Vince, now a volunteer firefighter and small-time drug dealer, comes to support John on his big day, or so it seems. But after their initial greetings, an undercurrent of tension remains. Gradually, it becomes clear that Vince still resents what he sees as John having stolen his girlfriend years before, and as the two men debate, a more serious accusation emerges.
more
Cast



News & Interviews for Tape
Critic Reviews for Tape
Audience Reviews for Tape
½
Amy: People change. They end up having nothing to say to each other even if they were best friends years before. 

"Some things can't be erased"

Tape is a very simple film technically, and the simplicity of it is what ends up making it so damn compelling. We're given three characters and one setting, and are left there for the whole film. The acting was good by all three, but I thought Uma Thurman was the standout here. Ethan Hawke and Robert Sean Leonard were good, but nothing about their performances were amazing. 

Tape takes place in a motel room. For the first 30 minutes or so we are just given Jon and Vince. At first it is just two friends catching up after 10 years. Then Vince begins to probe Jon for details about what he did with Amy. Amy dated Vince during high school, then Jon for a little bit at the end. Vince seems to think that Jon raped Amy. The compelling nature of all this becomes even more elevated when Amy arrives invited by Vince. 

This is an all dialogue movie with absolutely no gimmicks or action. It reminds me most of the movie The Big Kahuna, not because of the subject matter, but because of how it is presented. This is Richard Linklater at his roots. It's closer to Slacker then to movies that we find extremely entertaining like Dazed and Confused or School of Rock. This definitely isn't for everyone. I found it extremely compelling, but I would find it easy to believe if you found it boring.

Movies where any action at all is void from the plot make for polarizing films. Linklater is effective with what he is doing with Tape. It's oddly compelling in the way we sit and watch three characters in a claustrophobic room trying to come to terms with something that happened ten years ago. There feels like there's no escaping it, and there's not. You can't escape the past easily, and I guess if there's a point to Tape; that would be it.
Melvin White
Super Reviewer
The movie is quite a good (tensed) dramatic presentation specifically considering that it relies merely on two characters for most of its screen time with one addition later. Although it does lose its grip at times, all in all, it's a commendable piece (special thanks to the actors).
Discussion Forum
Discuss Tape on our Movie forum!
News & Features