Tarnation
(2004)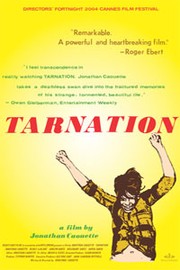 Tarnation Trailers & Photos
Movie Info
Part documentary, part narrative fiction, part home movie, and part acid trip. A psychedelic whirlwind of snapshots, Super-8 home movies, old answering machine messages, video diaries, early short films, snippets of '80s pop culture, and dramatic reenactments to create an epic portrait of an American family travesty. The story begins in 2003 when Jonathan learns that his schizophrenic mother, Renee, has overdosed on her lithium medication. He is catapulted back into his real and horrifying family legacy of rape, incest, abandonment, promiscuity, drug addiction, child abuse, and psychosis. As he grows up on camera, he finds the escapist balm of musical theater and B horror flicks and reconnects to life through a queer chosen family. Then a look into the future shows Jonathan as he confronts the symbiotic and almost unbearable love he shares with his beautiful and tragically damaged mother.
more
News & Interviews for Tarnation
Critic Reviews for Tarnation
Audience Reviews for Tarnation
½
[font=Century Gothic]"Tarnation" is a documenary made by and about Jonathan Caouette. Its starting point is his mother's lithium overdose in 2001 and then reviews the facts of his mother's life, followed by his own, mostly through photographs, 8mm film, and odd film clips(It took me ten minutes to get the "Rosemary's Baby" reference but still have no idea about "The Best Little Whorehouse in Texas.") as fed through and spit out by a computer.[/font]
[font=Century Gothic][/font]
[font=Century Gothic]"Tarnation" is an exercise in amateur narcissism that only serves to make the viewer uncomfortable in a shared voyeurism. The only sequences of merit are when he explores his mother's mental illness and what it is to care for a mentally ill person.(How Caouette made it out of such a situation as a stable adult is only partially explained by his moving from Houston to New York.) [/font]
Bits of unbearable information brought to us by Jonathan Caouette, a man who truly has had a horrific lot in life. It results in a deranged drug user who captures all of his grief through home movies and other forms of media to shock the viewer.
Discussion Forum
Discuss Tarnation on our Movie forum!
News & Features