Tarzan
(2014)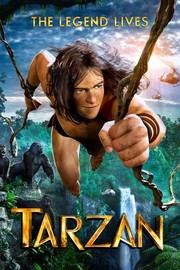 Tarzan Trailers & Photos
Movie Info
A teenage boy raised by gorillas in Africa falls for a pretty conservationist following a chance meeting in the jungle, but finds their romance threatened by a menacing Silverback, and a scheming capitalist in search of a new energy source in this animated adaptation of Edgar Rice Burroughs' classic tale. John Greystoke, Jr. was just a toddler when he accompanied his adventurous mother and father on a journey into Africa in search of a mineral that could revolutionize the energy industry. That trip turns tragic, however, when their helicopter crashes in a race to escape a massive storm, leaving young John the sole survivor. Raised from that day forward by a motherly gorilla named Kala, the boy, now named Tarzan, quickly integrates into the family of primates. But alpha male Silverback Tablat refuses to accept Tarzan's presence, viewing him as a direct threat to the clan. Nearly a decade later, Tarzan encounters beautiful Jane Porter, and begins to long for human contact. When Jane returns to the jungle accompanied by smooth-talking entrepreneur William Clayton a few years later, her relationship with Tarzan is rekindled. But while Clayton has ostensibly come to the jungle to support Jane's conservationist endeavors, he's actually searching for the very same energy source once sought by Tarzan's father, and hopes to turn a tidy profit by exploiting the precious resource. The situation turns critical when Jane recognizes Clayton's true intentions, and the only one who can save her from both the villainous industrialist and the menacing Tablat is the noble Tarzan of the apes. ~ Jason Buchanan, Rovi
more
Watch it now
Cast
News & Interviews for Tarzan
Critic Reviews for Tarzan
Audience Reviews for Tarzan
Caesar Mendez
Super Reviewer
This American-German-French 3D computer-animated film directed and produced by German producer Reinhard Klooss was first released in October 2013 in Russia, and in early 2014 in other countries. The screenplay was written by Reinhard Klooss, Jessica Postigo and Yoni Brenner, and it was 90th movie adaptation of the classic book Tarzan of the Apes (1914) by Edgar Rice Burroughs. It was unusual, made like a comic story, following environmentally friendly message and having a sci-fi feel. The film stars Kellan Lutz, Spencer Locke, Anton Zetterholm, Mark Deklin, Joe Cappelletti, and Jaime Ray Newman, and they just did enough!

I have to say that I prefer the classic story, but this one was interesting enough... started from 70,000,000 years ago, when a mountain-sized meteor, bristling with unknown energies, crashed into the Earth, with a major chunk of the object landing in Central African jungle. This impact resulted in ecological catastrophe causing the extinction of the dinosaurs. After that we move to the close of the 20th Century, when rich industrialist John Greystoke has been funding an expedition into the jungles of Africa to locate the meteor.. he thinks that this is just an ages-old legend, because despite the best efforts by scientist and adventurer James Porter, the expedition is a failure, and John is preparing to leave Africa with his wife, Alice, and their son, John Jr. That is when the story of the Tarzan actually begins...

This version is probably for the age between 8 and 10, and people who prefer the classic Tarzan could be annoyed with the rendering and all the elements drawing it close to Supermen and Avatar story (a subplot involving a meteorite-derived power source). Nothing special, but do not dismiss it too easily!
This Tarzan reboot is so stupid! They had a ripoff of Tremors, a film I have not seen. And the animation looks like it's been computer generated by a 3 year old!
Jona Soto
Tarzan Quotes
Tarzan: "Me strong. Me king of the jungle."
Tarzan: "Me strong, me king of the jungle"
Discussion Forum
Discuss Tarzan on our Movie forum!
News & Features