Teen Wolf
(1985)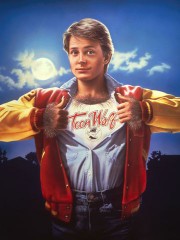 Teen Wolf Trailers & Photos
Movie Info
After sitting on the shelf for some time, Teen Wolf was released on the heels of the hugely successful Back to the Future in an attempt to cash in on the huge popularity of star Michael J. Fox. Teen Wolf chronicles the plight of Fox as a small-town nerd who can't seem to score a basket on the court or a point with his dream girl. Things change, however, once he discovers his family's hereditary secret, lycanthrope. As he begins to look hairier and hairier, his team begins to win basketball games and his dream girl begins to show interest in his unusual talent. His story does not progress without complications, however. His best friend, an opportunistic weasel, begins to exploit him beyond his limits of toleration, and his dream girl is captive to the requisite bully boyfriend, who, of course, captains the arch-rival basketball team. And then, to top it all off, Fox's other best friend is in love with him. Unbelievably, this film was a box-office success and eventually inspired an even worse sequel, Teen Wolf Too, several years later -- a film which Fox wisely declined.
more
Cast
News & Interviews for Teen Wolf
Critic Reviews for Teen Wolf
Audience Reviews for Teen Wolf
½
"It's really odd how you can love a movie so much as a kid to only to grow up and watch it again to see how cheesy and poorly made it is. But I still love it!
Michael J. Fox was a favorite of mine growing up. I loved him in this and the Back to The Future movies. I miss him in movies. He's a great actor. The film is silly and corny, but enjoyable and fun. It doesn't hold the same level of awesomeness it did when I was younger and first seeing it. Still, I will forever love this movie. The 80's have movies that I will continue to love no matter how cheesy they may seem today."
♥˩ƳИИ ƜѲѲƉƧ♥
Super Reviewer
Pretty good comedy horror flick with teen flair, Teen Wolf delivers a good time with a good cast of actors who are great to watch on-screen. Although not as memorable as other horror comedies of the 80's, Teen Wolf is still a must for all horror fans. There are things that could have been done better, but for the most part, it succeeds at being a very entertaining film. This is cheesy 80's comedy horror at its best. This is a fun twist on the usual werewolf flick, and it works. Although not perfect, this film is still a must see with great gags on-screen, and a cast that's sure to please. The film at times is weak, but as a whole it succeeds at entertaining you because of the new ideas expressed in its story. The film may falter at times, but it doesn't prevent it from being a fun, entertaining hour and a half. I very much enjoyed this film, Michael J. Fox was very good here, and he made the film work. If you're looking for a fun cheesy comedy horror film that is meant not to be taken serious, Teen Wolf is that film. A very enjoyable film from start to finish this is an underrated film that deserves a lot more praise than it has gotten. Sure there are things that could have been improved upon, but in the end, the film still manages to be worthwhile viewing. If you enjoy 80's comedy horror cheese, then Teen Wolf is the perfect film for you to watch and fill that void. A different take on werewolf films and it pays off.
Discussion Forum
Discuss Teen Wolf on our Movie forum!
News & Features