The Shortcut
(2009)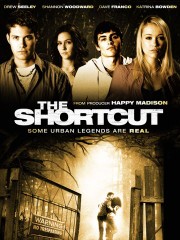 AUDIENCE SCORE
Critic Consensus: No consensus yet.
The Shortcut Trailers & Photos
Movie Info
The first release from Scary Madison - the genre division of Adam Sandler's Happy Madison production house - director Nicholas Goossen's small town frightener serves as a shocking wake-up call to teenage trespassers everywhere. High school senior Derek (Drew Seeley) was adjusting to life in a new town when he discovered an overgrown path leading into the woods. According to his classmates, the local kids used to use it as a shortcut before a malevolent farmer began chasing them away with a shovel. Eventually, a few of the local kids went missing under mysterious circumstances. Rumor has it that the old man got them. Now years have passed, and no one dares go near the path. The townspeople have simply accepted the fact that it's off limits. But Derek suspects that the old man is hiding something, and he's determined to find out what it is. Once he uncovers the sinister secret that lies just beyond the trees, however, he may not live to reveal the awful truth. Dave Franco, Katrina Bowden, and Shannon Woodward co-star.
more
Cast
News & Interviews for The Shortcut
Critic Reviews for The Shortcut
All Critics (1) | Fresh (1) | Rotten (0) | DVD (1)
You won't be scared silly, but for a horror movie to take such a low-key approach, focusing on characters and situations seems like a radical departure.

Audience Reviews for The Shortcut
Melvin White
Super Reviewer
This movie was really bad. It was like all cliches. Like the woods, the crazy man in the woods, the psycho children, etc. Seen it alllll before.

The cliches and underdeveloped actors is what makes this horror film like every other one in the world. It's boring and stupid. The biggest thing I had with this film was the editing. It was so sloppily put together. Like they had flashbacks just thrown in random places....I guess to give the audience some background information? But it was really inappropriate for the film. There was a backstory, but they had to use flashbacks in order to tell the story and the flashbacks were all crappily placed in the film. It was really stupid. I didn't like the flashbacks. The whole movie's plot wasn't neat and organized at all. First they were looking for a dog, then it turned into breaking and entering someone's house, then it turned into a "rescue" mission/murder scene. Didn't it occur to the kids just to ask the man in the house if he saw his dog? Or couldn't the kid have called the police to report the dead domesticated dog on the man's property? I mean do these kids think at all or are they just naturally dumbasses? The kids were dumb and in my opinion deserved to die.
½
The Shortcut isn't the typical B-movie slasher film you'd expect it to be. The movie actually has a plot, a decent story to follow, and a great cast. A great cast can be the difference in a film like this and they defiantly did a great job here. For decades, people had been disappearing from the woods behind Hartley Elementary and no one is sure why, but after something scared the shit out of his little brother, Derek (Drew Seeley) is going to find out what it is. Shannon Woodward of the Riches and James Franco's little brother give strong performances and some comic relief in support of Drew Seeley. Seeley is a newcomer to me, but his intensity was contagious and really helped me get into this film. I also really liked how they moved between modern day and what happened in the past. The seemingly innocent shortcut through the woods has a very interesting story behind it. It's somewhat believable and pretty intense. This is billed as a slasher film, but there isn't much gore at all, what there is doesn't come until much later in the film. The Shortcut won't win any awards, but it will certainly entertain you. It was fun and really is a lot more than it appears to be and I was pleasantly surprised.
Discussion Forum
Discuss The Shortcut on our Movie forum!
News & Features