The Best Exotic Marigold Hotel
(2012)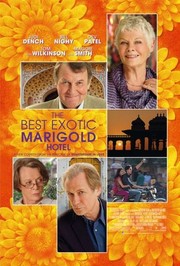 TOMATOMETER
AUDIENCE SCORE
Critic Consensus: The Best Exotic Marigold Hotel isn't groundbreaking storytelling, but it's a sweet story about the senior set featuring a top-notch cast of veteran actors.
The Best Exotic Marigold Hotel Trailers & Photos
Movie Info
The Best Exotic Marigold Hotel follows a group of British retirees who decide to "outsource" their retirement to less expensive and seemingly exotic India. Enticed by advertisements for the newly restored Marigold Hotel and bolstered with visions of a life of leisure, they arrive to find the palace a shell of its former self. Though the new environment is less luxurious than imagined, they are forever transformed by their shared experiences, discovering that life and love can begin again when you let go of the past. -- (C) Fox Searchlight
more
Cast
News & Interviews for The Best Exotic Marigold Hotel
Critic Reviews for The Best Exotic Marigold Hotel
Audience Reviews for The Best Exotic Marigold Hotel
½
There is a lot of content - the movie is set in and 'exotic' retirement hotel in India, and deals with seven Brits - how they got there and what they need in their retirements. It also throws in some complications of the Indian family that runs the hotel. It is a well-written story.
"The Best Exotic Marigold Hotel" earns most of it's praise from having such a talented cast, cleverly written comedy, and a story that will have people of all ages enjoying it's touching message of elderly people bonding, and realizing things about their lives. Having a running time of over two hours, it does feel it's length at times, but it is a very well-made film all around, making up for any slow moments. I have always been a fan of stories that involve multiple people from various locations all crossing paths and becoming the centre of the story. The cast interacts fantastically together, almost as if they were all meant to be cast, and when happy accident like that happen, great films comes from it. There are a few cliched feel-good scenes to get you through to the end, but overall, it is a highly enjoyable film with many great elements. "The Best Exotic Marigold Hotel" is a very impressive film for what it is.
The Best Exotic Marigold Hotel Quotes
Madge Hardcastle: One was rather hoping to fly under the radar, but one is a member of the royal family.
Mr. Maruthi: Which member, madam?
Madge Hardcastle: I'm Princess Margaret.
Mr. Maruthi: It is most certainly an honor to meet you, madam. And may I say how well you look, especially taking into account that you died nine years ago.
Evelyn Greenslade: Is it our friend we are grieving for, whose life we knew so little? Or is it our own loss that we are mourning? Have we traveled far enough that we can allow our tears to fall?
Madge Hardcastle: When someone dies, you think about your own life. And I don't want to grow older. I don't want to be condescended to. To become marginalized and ignored by society. I don't want to be the first person they let off the plane in a hostage crisis.
Sonny Kapoor: You see? Profound satisfaction. Such is the inevitable result of a prolonged stay at the Marigold Hotel. To create a home for the elderly so wonderful that they will simply refuse to die. Stare death in the face and say... What are those men doing?
Evelyn Greenslade: Didn't you have a girlfriend?
Sonny Kapoor: She is my girlfriend no longer.
Evelyn Greenslade: This is a disaster.
Sonny Kapoor: No, no. Then we must treat it just the same as we would treat a triumph, madam. Is that not what your Mr. Kipling tells us? Although, of course, here we have a problem, because I, Sunil Indrajit Kapoor, have never had a triumph. So, of course, I do not know how to treat one. No, all I've had is a constant series of disasters interspersed with occasional catastrophe, an unending stream of total...
Discussion Forum
Discuss The Best Exotic Marigold Hotel on our Movie forum!
News & Features