The Black Power Mixtape 1967-1975
(2011)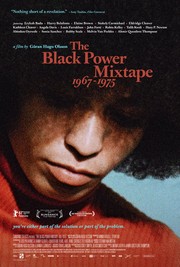 The Black Power Mixtape 1967-1975 Trailers & Photos
Movie Info
The Black Power Mixtape 1967-1975 mobilizes a treasure trove of 16mm material shot by Swedish journalists who came to the US drawn by stories of urban unrest and revolution. Gaining access to many of the leaders of the Black Power Movement-Stokely Carmichael, Bobby Seale, Angela Davis and Eldridge Cleaver among them-the filmmakers captured them in intimate moments and remarkably unguarded interviews. Thirty years later, this lush collection was found languishing in the basement of Swedish Television. Director Göran Olsson and co-producer Danny Glover bring this footage to light in a mosaic of images, music and narration chronicling the evolution one of our nation's most indelible turning points, the Black Power movement. Music by Questlove and Om'Mas Keith, and commentary from prominent African- American artists and activists who were influenced by the struggle -- including Erykah Badu, Harry Belafonte, Talib Kweli, and Melvin Van Peebles -- give the historical footage a fresh, contemporary resonance and makes the film an exhilarating, unprecedented account of an American revolution. -- (C) IFC
more
Cast
News & Interviews for The Black Power Mixtape 1967-1975
Critic Reviews for The Black Power Mixtape 1967-1975
Audience Reviews for The Black Power Mixtape 1967-1975
Chris Weber
Super Reviewer
"The Black Power Mixtape 1967-1975" is a fascinating documentary, with the help of some commentary from the present day, that contains footage shot by Swedish broadcast crews of interviews and speeches by black leaders with highlights including Stokely Carmichael interviewing his mother, Eldridge Cleaver in exile in Algiers, Angela Davis in a jail cell on trumped up charges, and one great poem I wish I could remember. Of similar interest is interviews with anonymous people on the street, creating a sense of what it was like to live at the time and insights into the Black Panther Party. All of which forms a narrative of the black power movement from hope to resistance to persecution to repression to defeat, symbolized in epidemic drug abuse. As Stokely Carmichael said, Dr. King's message of nonviolence is all well and good, assuming the people in power have a conscience.

On a personal level, what's sad for me is again looking to another country to learn about the history of the one where I live. Apparently in Sweden, they have no problem with those willing to think outside of the box on the left where the word radical is not a dirty word. On a less radical note, there is footage of Dr. King and Harry Belafonte being greeted by the King of Sweden. And then there is the Prime Minister of Sweden creating an international incident by comparing the bombing of Hanoi to Nazi war atrocities which while an exaggeration is still a war crime. So, Sweden gets accused of broadcasting anti-American propaganda by TV Guide, which if they had any knowledge of the publication they were dealing with, they would not be able to stop laughing.
I found it terribly interesting that the Swedish team that took much of the historical footage of this film caused an international incident by highlighting race tensions in the U.S. which resulted in a recalling of ambassadors. A great overview and look at some of the less well known characters of the movement. Thoroughly enjoyable.
Discussion Forum
Discuss The Black Power Mixtape 1967-1975 on our Movie forum!
News & Features