The Expendables
(2010)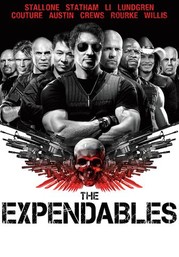 TOMATOMETER
AUDIENCE SCORE
Critic Consensus: It makes good on the old-school action it promises, but given all the talent on display, The Expendables should hit harder.
The Expendables Trailers & Photos
Movie Info
An all-star cast of action-movie icons headline Sylvester Stallone's explosive action thriller about a group of hard-nosed mercenaries who are double-crossed during a treacherous mission. Approached by the shadowy Church (Bruce Willis) to overthrow tyrannical South American dictator General Gaza (David Zayas) and restore order to the troubled island country of Vilena, stoic soldier of fortune Barney Ross (Stallone) rounds up an unstoppable team that includes former SAS soldier and blade specialist Lee Christmas (Jason Statham); martial arts expert Yin (Jet Li); trigger-happy Hale Caesar (Terry Crews); and cerebral demolitions expert Toll Road (Randy Couture). Traveling to Vilena on a reconnaissance mission with his old pal Christmas, Barney meets their local contact, a cagey guerrilla fighter named Sandra (Giselle Itie), and together the trio scopes out the landscape.. It isn't long before Barney and Christmas have discovered that their actual target is not General Gaza but James Monroe (Eric Roberts), a former CIA operative who has recently gone rogue. Monroe won't be easy to get to either, because his hulking bodyguard Paine (Steve Austin) is a force to be reckoned with. When their mission is compromised, Barney and Christmas are forced to flee, leaving Sandra behind to face almost certain death. But Barney isn't the kind of soldier to abandon a mission, or a hostage, and now in order to get the job done he'll need the help of his old crew. ~ Jason Buchanan, Rovi
more
Cast
News & Interviews for The Expendables
Critic Reviews for The Expendables
Audience Reviews for The Expendables
½
The Expendables begins with some promising action (although very artificial), however, the film just falls downhill from there. The action is the best attempt at awesome entertainment in a long time, but it's mixed into a very weak premise. I was very disappointed to see all of these stars go to waste! There is action and then there is drama randomly thrown in, but then kicks back into action, which feels very uneven. Mickey Rourke gets the most character development, and he is one of the least shown characters in the film. The dialogue is sort of laughable at points, but the film pulls itself out of the hole halfway through, which is just enough time to redeem itself and become a fun R-Rated popcorn flick. When Rourke's character states that there are three pieces of work, they end up doing the first job and getting caught up in that one for the entire film. It kind of seems pointless, but it is a great summer film to have fun with. It will put a smile on your face for hours and hours, but in a few years, you may forget about it. "The Expendables" is sadly, expendable, but it's not bad!
absolutely mindless, but in the best possible way. there are no revelations here, but if youre expecting any i have to question your judgment. this was old action guys, and a few new ones, making a nostalgic, silly, and corny action flick that would bring back illusions of the 80's, and for me they succeeded. the script was awful, the action way over the top, and the characters pretty shallow, but this is one of the few films where none of that mattered much to me. everytime rourke was on screen all i could think was, "what in the world is good acting doing in this film!", but again, it didnt matter that the performances were so sub par. i wanted to mentally check out for 100 minutes and have fun, and i can honestly say that i did. jet li is probably too good for this movie, but he was my favorite part. overall, enjoyable.
The Expendables Quotes
Yin Yang: I need a raise.
Barney 'The Schizo' Ross: Why?
Yin Yang: I need the money for my family. I want to send my son to a better school.
Lee Christmas: When did you get a family?
Yin Yang: Don't ask. I don't know.
Yin Yang: I need more money.
Barney 'The Schizo' Ross: I know you told me, for your family right?
Yin Yang: I don't have family.
Barney 'The Schizo' Ross: I know.
Paine: How many men you got?
Barney 'The Schizo' Ross: Just your mother!
Yin Yang: When I get hurt, the hole is bigger, because I'm smaller.
Discussion Forum
Discuss The Expendables on our Movie forum!
News & Features