The Family Tree
(2011)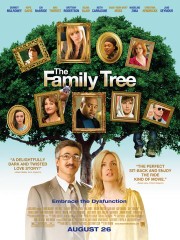 The Family Tree Trailers & Photos
Movie Info
Life in suburban Serenity, Ohio is never quite as serene as it appears. The dysfunctional Burnett family - Bunnie (Hope Davis), Jack (Dermot Mulroney) and their twin 17 year olds Eric (Max Thieriot) and Kelly (Britt Robertson) - seems like a lost cause. When a freak accident leaves Bunnie with a case of amnesia, the Burnetts get an unexpected second chance at happiness. Meanwhile, next door neighbor Simon (Chi McBride) is relieved that his tryst gone wrong with Bunnie remains undetected, at least for the moment. Before long, a slew of past relationships, kids with guns, a suicidal teacher, a very zealous religious club, misinterpreted advances, corporate down-sizing, and one fateful squirrel combine to create enough mayhem to test the resolve, sanity and future of any family! -- (C) Entertainment One US
more
Cast
News & Interviews for The Family Tree
Critic Reviews for The Family Tree
Audience Reviews for The Family Tree
♥˩ƳИИ ƜѲѲƉƧ♥
Super Reviewer
This film reminded me on my high-school days when we were looking for crazy and shallow movies with lots of funny situations in impossible surrounding... and they will still remind us on someone while raising a middle finger to all the "traditional values" which everyone is preaching...

The dysfunctional Burnett family - Bunnie, Jack and their twin 17 year olds Eric and Kelly - were perfect set up for that type of movies... especially when a freak accident leaves Bunnie with a case of amnesia! There are all kinds of twists in this comedy in which Burnetts get an unexpected second chance at happiness. We have a slew of past relationships, kids with guns, a suicidal lesbian teacher, a very zealous gun loving preacher, misinterpreted advances, corporate down-sizing, and one fateful squirrel... they together create enough mayhem to test the resolve, sanity and future of any family, and make you laugh - at least a little bit!
Cast includes Hope Davis (Bunnie Burnett), Dermot Mulroney (Jack Burnett), Max Thieriot (Eric Burnett), Britt Robertson (Kelly Burnett), Chi McBride (Simon Krebs), Evan Ross (Josh Krebs), Keith Carradine (Reverend Diggs), Madeline Zima (Mitzy Steinbacher) but most of the time they could not show what are they capable of under the director Vivi Friedman's leadership.
The Family Tree is a movie that is such a formulaic crapfest it doesn't even deserve for me to take time out of my schedule to write-up this review of it as I already WASTED an hour and a half of my time trying to appreciate some aspect of it (Christina Hendricks is in it for all of 3 minutes in the first twelve and gone for the remainder). I couldn't find anything else here ... and I rarely say I "wasted" my time when talking about movies (I willingly watched the sequel to Garfield to review it for friends and family); but this IS time wasted. The movie takes so many swipes and swings at many hot-button topics (religion, sexuality, adultery and marriage) that it is all muddled and ridiculous. So much is thrown at this family of wretched individuals that the audience cannot even keep all of the stupid storylines straight -- none of it is reasonable or plausible. This might be one for those who want to "go back" to a nostalgic past of glory ... and this movie is everything that is wrong with that mindset.
The Family Tree Quotes
Jack: You guys were out shooting again, weren't you?
Reverend Diggs: Your boy has a God-given talent, Mr Burnett.
Jack: For what? Killing and maiming? Eric, you're weird enough as it is, without being some kind of a gun nut to top it off!
Bunnie Burnett: What about our Marathon for Manic Depression
Jack: Or Sculling for Scoliosis?
Bunnie: Shut up, Jack!
Jack: Roller blading for Rectal Itch? Luging for Lumbago?
Jack: I bet we're the first family ever to be fired by our therapist.
Bunnie: I think it shows a little too much nipple...
Discussion Forum
Discuss The Family Tree on our Movie forum!
News & Features