The First Grader
(2011)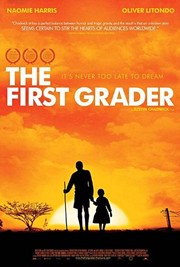 The First Grader Trailers & Photos
Movie Info
In a small, remote mountain top primary school in the Kenyan bush, hundreds of children are jostling for a chance for the free education newly promised by the Kenyan government. One new applicant causes astonishment when he knocks on the door of the school. He is Maruge (Oliver Litondo), an old Mau Mau veteran in his eighties, who is desperate to learn to read at this late stage of his life. He fought for the liberation of his country and now feels he must have the chance of an education so long denied - even if it means sitting in a classroom alongside six-year-olds. Moved by his passionate plea, head teacher Jane Obinchu (Naomie Harris), supports his struggle to gain admission and together they face fierce opposition from parents and officials who don't want to waste a precious school place on such an old man. -- (C) Official Site
more
Cast
News & Interviews for The First Grader
Critic Reviews for The First Grader
Audience Reviews for The First Grader
This true story of an 84 year old Kenyan man who, against all opposition, wants to make use of the new law of free education for first graders, is a perfect feel good movie. While the flashbacks into his past that by and by reveal his eventful back story and explain the motivation for his wish to learn reading also give a glimpse into the violent history of the country, this is not a political film. It is a story about the importance of education, dealing with your past and standing up for yourself. The performances are top notch and heart warming, especially the leading man Oliver Litondo and Naomie Harris as teacher are adorable. While the film does not avoid all stereotypes that come with such stories it is still enthralling, touching, beautifully filmed and very entertaining.
The best stories are still those where bad things happen to good people but in the end everyone gets what they deserve.
½
The main (true) story here is not that a Kenyan octogenarian goes back to first grade, but the horrible hell he and his countrymen went through fighting off the British colonialist in the 1950s. This should be rated R because that hell is presented in a horrifying way. To those that say violence in movies make you numb: I love Kill Bill, I've seen it probably 7 times, and this movie disturbed me to a point where I wanted to walk out. But I'm glad I didn't.
The First Grader Quotes
Kimani N'gan'ga Maruge: Learn till the soil gets in your ears.
Kimani N'gan'ga Maruge: We have to learn from our past because we must not forget, and because we must be better.
Jane Obinchu: Class we have a new student today!
Jane Obinchu: Why does someone as old as you want to go to school?
Discussion Forum
Discuss The First Grader on our Movie forum!
News & Features