The Human Resources Manager
(2011)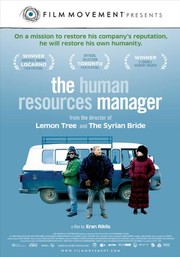 The Human Resources Manager Trailers & Photos
Movie Info
THE HUMAN RESOURCES MANAGER is a dramedy centered on the HR manager of Israel's largest industrial bakery, who sets out to save the reputation of his business and prevent the publication of a defamatory article. It was Israel's official entry for the 2011 Academy Awards Best Foreign Film category. HUMAN RESOURCES MANAGER is a Film Movement release, runs for 103 minutes, is in Hebrew, English and Romanian with English subtitles, and is not yet MPAA-rated. The Human Resources Manager of Jerusalem's largest bakery is in trouble. He is separated from his wife, distanced from his daughter and stuck in a job he hates. When one of his employees, a foreign worker, is killed in a suicide bombing, the bakery is accused of indifference, and the HR Manager is sent to the victim's hometown in Romania to make amends. Far from home, on a mission to honor a woman he didn't even know but has somehow grown to admire, the HR Manager rediscovers his own humanity and his ability to truly care for human resources. Eran Riklis' THE HUMAN RESOURCES MANAGER is based on an Israeli book that was recommended to him-A.B. Yehoshua's A Woman in Jerusalem (a New York Times notable book, and L.A. Times Book Prize winner, among other awards.) Keeping with the book, Riklis made the calculated decision not to name any of his characters (save the deceased woman inspiring the trip) but rather rely on their professions and personal attributes to identify and define them-the HR Manager, The Weasel, The Boy... These character archetypes lack a certain individuality and could, in turn, be any of us. In this act Riklis challenges the conventional and quirky road-trip movie and, in his words, creates a film that is "offbeat and kind of mainstream in a way." He calls THE HUMAN RESOURCES MANAGER "an asymmetrical road movie." It played at numerous international film festivals, including Toronto and Palm Springs, and captured the Audience Award at the Locarno Int'l Film Festival. Riklis' film features fearless performances by a comedic ensemble cast led by the well-known Ukrainian actor Mark Ivanir, whose resumé includes Spielberg's SCHINDLER'S LIST; HOLLY ROLLERS (with Social Network's Jesse Eisenberg), and Robert De Niro's THE GOOD SHEPHERD. -- (C) Film Movement
more
Watch it now
Cast
News & Interviews for The Human Resources Manager
Critic Reviews for The Human Resources Manager
Audience Reviews for The Human Resources Manager
½
The human resources manager(Mark Ivanir) of a bakery in Jerusalem in 2002 is about to leave for the night when the owner(Gila Almagor) tells him about an article that is about to run in the next day's newspaper attacking the bakery, and that he has to work on a rebuttal. The article in question is about a female victim(Galina Ozerner) in a suicide bombing who has been left in the morgue for days with a partial pay stub from the bakery as the only clue to her identity her body. With a little help from his assistant(Reymond Amsalem), he is able to identify her. After talking to the night supervisor, he finds out that she has not been working there for weeks. Still, even after sort of identifying the body, the manager is still blamed by the newspaper for negligence, causing him to accompany the body back to her native Romania with the journalist(Guri Alfi) in tow, hoping to be back in time for his daughter's(Roni Koren) field trip to which he has agreed to be a chaperone.

The name of the victim in "The Human Resources Manager" is Yulia. For the record, she is pretty much the only named character in the entire movie, focusing attention entirely on her and the efforts to return her remains to her native Romania.(Calling a character by only his title adds a little sarcasm into the mix which is not a bad idea. But I still think it might be a little cruel to think of the journalist as 'the weasel.') That act shows how responsibility for each other does not end at borders nor at the end of life. In this case, it is only the beginning of a long, strange journey. This is especially important in the broken world of the movie where death and destruction reign and almost everybody is alone, mostly due to divorce.(The exception being the Consul(Rozina Cambos) and Vice-Consul(Julian Negulesco). You have to admit it, they do make a cute couple.) So, in the end while "The Human Resources Manager" may break no new ground, it is still a a worthwhile and bittersweet movie about keeping promises.
½
Steering between politics, poignancy and dark humour, this fairly absorbing road movie is also one that proves morally interesting.
Discussion Forum
Discuss The Human Resources Manager on our Movie forum!
News & Features