The Inbetweeners
(2012)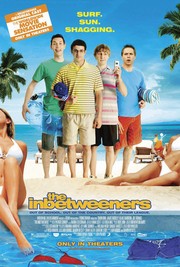 TOMATOMETER
AUDIENCE SCORE
Critic Consensus: It arguably plays most strongly to fans of the British series, but even viewers who have never seen The Inbetweeners on TV may find themselves won over by the film's surprisingly tender ribaldry.
The Inbetweeners Trailers & Photos
Movie Info
Four geeky high school friends set out on a wild sun and booze-filled vacation in The Inbetweeners Movie, the hilarious British breakout hit finally reaching American shores. Packed with outrageous sexual shenanigans, out-of-control party antics and cheekily rude humor in the tradition of American Pie, the film follows a quartet of sex-obsessed nerds to a notorious Mediterranean hotspot as they try to break their lifelong losing streak with the ladies. -- (C) Official Site
more
Cast
News & Interviews for The Inbetweeners
Critic Reviews for The Inbetweeners
Audience Reviews for The Inbetweeners
Daniel Mumby
Super Reviewer
½
So back in 2008 the UK was introduced to yet another foul-mouthed rude and disgusting comedy show...and it was more British brilliance. Easily the most semi offensive, filthy and sexually profanity ridden show to hit our screens since Bottom, and that was tame in comparison. The whole premise is basically centred around childish immature toilet humour, typical boyish low brow school smut that most every British male can relate to because they probably grew up doing and saying the same things.

The TV show revolved around four young boys struggling through their school years which included various stereotypical themes which, again, many will relate too. The most common of these was the attempt and failure of many many sexual encounters with girls from their school or where ever, these sexual escapades made up the bulk of the shows plots. Yes it sounds like a wholly cliched and unoriginal but that doesn't deter us Brits when it comes to embarrassing sexual innuendos and smut.

This movie carries on from where the TV show left off after the final third series which we all thought had finished for good. The lads are still mates and they're off on their holidays to sunny Malia, Crete, Greece. That is basically the plot right there, you don't really need to know anything about the TV show or what happened, you can quite easily watch this on its own and get the drift perfectly. There might be the odd moment which you might not get if you haven't watched the TV show but generally you should be fine.

If ever there was a bad advert on a mass scale for Brits abroad then this has gotta be high on the list. I'm not referring to all Brits of course but mainly the younger binge drinking generation that we all know and loathe these days. Yep its the stereotypical vision of modern day British youths abroad getting blind drunk, having or hunting for guilt free animalistic sex, drugs, vomit, feces and lots of football shirts. Its exactly what you'd expect as a British viewer which is both hilarious at times and utterly shameful at others, we all know what goes down in these types of places, amazed it wasn't filmed in Magaluf (probably too extreme).

Whilst the TV show seems anarchic and unpredictable this film really feels like a let down in my eyes. Gone are the fresh wild obnoxious antics...instead replaced with every known cliche from the book of cliches, besides that we saw all this before with 'Kevin and Perry Go Large'. The one that has been implanted into this story is emotion and some solid character development. The guys do seems to grow as we see them fall out, make up and meet the girls of their dreams...naturally not being the type of girls they expected. Although again its kinda obvious, 'Jay' gets a tubby bird and starts to show signs of maturing, 'Will' get a hot blonde, 'Simon' finally moves on from 'Carly' with a brunette and 'Neil' finds a slightly ditzy girl the same height as himself.

Generally I found this movie kinda depressing actually, there is tonnes of negativity with the guys trying to find girls, trying to be popular and trying to fit in. There are of course the highs but I found there to be more lows really, lows and lots of cringeworthy behaviour which somehow didn't seem as funny as the TV show. Most of the laughs tend to be the most obvious and over used cliches such as the shitty hotel, aging desperate women dressed in unflattering attire, too much booze with obligatory vomiting, hot babes, buff jocks and the old gag of the rude doodle burnt into burnt into your back. I guess the old school location of...errr their school works the best, prime example being the fantastic small sequence with Greg Davies as 'Mr Gilbert' the Headmaster giving a rousing speech at the start. Its reasonable fun in places but on the whole it can't live up to the original show despite the usual good performances from the main cast.
"I love the T.V. show. Big fan. That being said, the film wasn't as brilliant as the show. The first half of the movie and the middle is a lot of fun, but near the ending it starts to lose some steam. I still found it to be funny, awkward, grosse, and entertaining to say the least. These four boys really have no shame. As a viewer, that is awesome. They really let anything and everything happen to them and own it. If you enjoy the show, there is no way you can be disappointed with the movie."
♥˩ƳИИ ƜѲѲƉƧ♥
Super Reviewer
The Inbetweeners Quotes
Jay Cartwright: We can all go on a mental holiday together two weeks of sun sea sex sand booze sex minge fanny and tits and booze and sex.
Neil Sutherland: I stopped believing in god when I realised it was just dog spelt backwards.
Neil Sutherland: [jay cartwright] we can all go on a mental holiday together two weeks of sun sea sex sand booze sex minge fanny and tits and booze and sex.
Discussion Forum
Discuss The Inbetweeners on our Movie forum!
News & Features