The Overnight
(2015)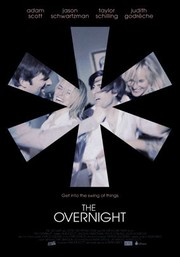 TOMATOMETER
AUDIENCE SCORE
Critic Consensus: Witty and unpredictable, The Overnight benefits from writer-director Patrick Brice's sure-handed touch and strong performances from a talented cast.
The Overnight Trailers & Photos
Movie Info
Alex (Adam Scott), Emily (Taylor Schilling), and their son, RJ, have recently moved to​ ​Los Angeles' Eastside from Seattle. Feeling lost in a new city, they are desperate to find their first new friends. After a chance meeting with Kurt (Jason Schwartzman) at the neighborhood park, they gladly agree to join family pizza night at the home. But as it gets later and the kids go to bed, the family "playdate" becomes increasingly more revealing and bizarre as the couples begin to​ ​open up. (C) The Orchard
more
| | |
| --- | --- |
| Rating: | R (for strong sexuality, graphic nudity, language and drug use) |
| Genre: | Comedy |
| Directed By: | Patrick Brice |
| Written By: | Patrick Brice |
| In Theaters: | Jun 19, 2015 Limited |
| On DVD: | Sep 15, 2015 |
| Box Office: | $1.1M |
| Runtime: | |
Cast
News & Interviews for The Overnight
Critic Reviews for The Overnight
Audience Reviews for The Overnight
½
The new Bob & Carol & Ted & Alice. I haven't seen that 60s film, but I was recently reading about it in the book Medium Cool. In this iteration of the same basic plot, in 2015, we have a couple from New York moving to Los Angeles. They meet a sort of hipster, European infused couple with some unusual kinks and a son the same age as the New York couple's son. A play date for the young boys turns into a debauched night for the four adults. This is Alex & Emily & Kurt & Charlotte with a dose of bisexuality and a bit more pay off in the end that the 60s movie withheld.
½
KNOB AND CAROL AND TED AND ALICE - My Review of THE OVERNIGHT (2 1/2 Stars)


Sex comedies have long been a Hollywood staple, from the juvenile PORKY'S to the edgy SECRETARY. Sex will always sell, but sadly this genre has virtually disappeared in recent years, partly due to the endless glut of...I'm not gonna get on my anti-superhero soapbox again...so just look at what's jamming up your multiplexes week after miserable week. More and more, we have to rely on independent films to deliver anything remotely adult, or complex, or dare I say, original. My fingers and heart hurt just typing this.

Enter THE OVERNIGHT, an on-the-surface sexual comedy which actually is more of an exploration of those awkward, instantaneous friendships we find ourselves in throughout our lives. Written and directed by Patrick Brice and Executive Produced by Mark Duplass, one of the reigning kings of Mumblecore filmmaking, this small, micro-budget film almost makes up for what it lacks in technique by bringing provocative ideas to the table with considerable charm. Oh, and you'll be talking about penises a lot afterward!

Adam Scott (PARKS AND RECREATION) and Taylor Schilling (ORANGE IS THE NEW BLACK) are Alex and Emily, a couple with a young son who have just moved to LA with a desire to make new friends. A stay-at-home dad, Alex suffers insecurities from seeing his wife thrive in her career while he wallows in his small existence. One day at the park, the couple meet Kurt (RUSHMORE's Jason Schartzman), and he's that specific east side hipster who wears a wide-brimmed hat without a trace of irony. Loaded with uncomfortable hyperbole about their chance meeting, Kurt invites the couple over for dinner with his wife Charlotte (Judith Godrèche, RIDICULE) and toddler. The rhythms of this scene are just right, nailing one couple's desire to go with the flow while Schwartzman moves too fast.

That's the setup for a film which largely takes place at an event that goes from innocent pizza party to an epic, drug and alcohol-fueled night of exploration. Godrèche possesses that breezy charm the best hosts have, yet there's something slightly ominous in her tight smile. Schwartzman gives Scott a tour of his man cave, which is filled with a slew of "butthole" paintings (notice the clever poster graphic), and things get even more overly familiar from this point forward.

You could have easily called this film TMI had it truly gone as far as I had hoped, but THE OVERNIGHT pulls its punches a little. Sure, everyone lets loose (an underwater shot of our stoned foursome swimming is hilarious), but the promise of a GAME OF THRONES-style orgy never really materializes. A ladies detour to a lascivious location pops and sizzles with sexual menace, and then there's that penis set piece involving giant and tiny prosthetics that's sure to have everyone talking around the water cooler and sizing each other up down there, but, to be honest, things never really get too out of hand.

In a broader, studio comedy, there would be partner swapping and probably a big gross-out scene or two, followed by an epiphany that would change the course of our main characters.
THE OVERNIGHT has a little bit of vomit (actually one of my favorite moments in the film) and just the slightest hint of character development. Since it mostly takes place in one night, it's not realistic to expect huge changes, but it's also a convenient excuse to not dive too deep. WHO'S AFRAID OF VIRGINIA WOOLF, this is not. Despite this, the four main performances are all solid, with Schilling beautifully underplaying her part and Scott perfectly playing the addled everyman. The movie, however, belongs to Schwartzman, who brings surprise, warmth, and radical energy to every moment.

Except for the aforementioned strange interlude, the filmmaking itself is merely serviceable. Patrick Brice's strengths, however, are in discovering those believable rhythms between new acquaintances. Have you ever just met someone, liked them, and then they do something weird like making you try their completely awful Swan Butter Pate, and you have to pretend to like it? This is the world of THE OVERNIGHT. It may not ultimately amount to much, and the characters have a very unsatisfying final scene, but I'm glad it exists at all in this soul-deadening studio marketplace.
Discussion Forum
Discuss The Overnight on our Movie forum!
News & Features