The Ridiculous 6
(2015)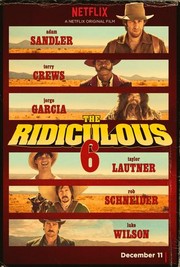 TOMATOMETER
Want to See
Critic Consensus: Every bit as lazily offensive as its cast and concept would suggest, The Ridiculous Six is standard couch fare for Adam Sandler fanatics and must-avoid viewing for film enthusiasts of every other persuasion.
Movie Info
Six bizarre and diverse strangers in the Wild West discover that they all share the same father, and the newfound brothers embark on a journey to find their dad.
more
Happy Madison Productions
Cast
News & Interviews for The Ridiculous 6
Critic Reviews for The Ridiculous 6
Audience Reviews for The Ridiculous 6
Minus about 1% of what you have come to expect from Adam Sandler, you will get everything from his dumb slapstick schtick, to his "good-effort" emotion, to his been-there-done-that storyline. "The Ridiculous 6" is as ridiculous and outlandish as it's title suggests and could possibly be one of the worst films I have seen in all of 2015. Funded and released by Netflix, you would expect the Sandler crew to care more about their "product" and less about having fun on set, but evidently not. This film is everything wrong with Hollywood these days. From care-free performances to unfunny gags, there really is no reason to watch this film. At least it is watchable at your own leisure on Netflix, where it should remain. Okay, I won't rip this film to shreds, because there were a few moments that had me chuckling pretty hard, but it is immediately ruined by visual gags of horses pooping and heads being decapitated. That is funny? Certainly not in my mind. "The Ridiculous 6" had absolutely no reason to be made, but it was, and I can say that yet again, Sandler has made me wish I was watching something better for those two hours.
The Ridiculous 6 Quotes
Lil Pete: Hey friend, need any help gettin' her out?
Ramon: She's not really stuck amigo, she's a diversion.
Lil Pete: She's a virgin? I'm a virgin, too... unless you count canty-loupes.
Ramon: My mother's Swedish
Tommy: I don't think so. I reckon she's Mexican.
Ramon: Lying bitch.
Discussion Forum
Discuss The Ridiculous 6 on our Movie forum!
News & Features