The Wicker Man
(1973)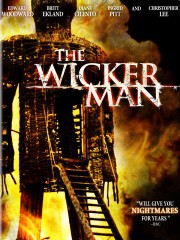 TOMATOMETER
AUDIENCE SCORE
Critic Consensus: This intelligent horror film is subtle in its thrills and chills, with an ending that is both shocking and truly memorable.
Tickets & Showtimes
The Wicker Man Trailers & Photos
Movie Info
A righteous police officer investigating the disappearance of a young girl comes into conflict with the unusual residents of a secluded Scottish isle in this unsettling, intelligent chiller. Brought to the island of Summerisle by an anonymous letter, Edward Woodward's constable is surprised to discover that the island's population suspiciously denies the missing girl's very existence. Even more shocking, at least to the traditionally pious law office, the island is ruled by a libertarian society organized around pagan rituals. Repelled by the open acceptance of sexuality, nature worship, and even witchcraft, the officer takes an antagonistic attitude towards the people and their leader, an eccentric but charming English lord (Christopher Lee). The officer's unease intensifies as he continues his investigation, slowly coming to fear that the girl's disappearance may be linked in a particularly horrifying manner to an upcoming public festival. Anthony Shaffer's meticulously crafted screenplay creates a thoroughly convincing alternative society, building tension through slow discovery and indirect suggestion and making the terrifying climax all the more effective. Performances are also perfectly tuned, with Woodward suitably priggish as the investigator and horror icon Lee delivering one of his most accomplished performances as Lord Summerisle. Little noticed during its original theatrical run due to studio edits and a limited release, the film's intelligence and uncanny tone has since attracted a devoted cult following. -- (C) Rovi
more
Cast
News & Interviews for The Wicker Man
Critic Reviews for The Wicker Man
Audience Reviews for The Wicker Man
It's very difficult to have anything incisive to say about this horror film, because it is so strange and otherworldly. An English policeman, who has rigorous moral and religious attitudes, arrives at a secluded island where a town of people celebrates public sex and nudity, sexual education, and unconventional methods of communication and discourse. The policeman finds these heathens wanting and tells them so at every opportunity. He is looking for a missing child, who he believes has been murdered by this island of cultists, and so he has little patience for them. Throughout the movie there are interspersed scenes of sexual congress in the fields of the lush isle, and gleeful pagan music. There's no religion, which chafes the officer, and lends to outbursts aimed at all manner of people. It's strange that he has no patience for these people, when they exist throughout England, but it does lend to a tension that keeps us guessing throughout the entire film. The twist was obvious from the outset, and the symbolism of these pagans leans more towards fanatical Christianity's worst fear, but otherwise it was definitely an unsettling film.
While Cinemafantastique termed The Wicker Man "the Citizen Kane" of horror films, I believe this is an excellent and fascinating film but that designation is pure hyperbole. This film is not so much a horror film as it is an unusual mystery about a clash of cultures that defy understanding, and within one region of one nation. It is thought-provoking and iconoclastic. The ending is jaw-droppingly memorable, both visually and as the climax of the plot.

I liked the cast; Woodward is perfectly cast, even better than the well-known Christopher Lee. Lee is an iconic villain yet this role calls more for obscure or mysterious than frightening or sinister. One-time Rod Stewart girlfriend Britt Ekland's nudity is a bonus! There is pervasive nudity throughout the film, added as a shock to traditional British sensibilities.

The only real deficiencies, for me, are the goofy, "hippy" elements of this 1973 film. It archaic, today, like a pagan cult Brady Bunch. The plot and characters still hold up today as shocking, only some imagery and music are dated. In summation, this is a brilliant story of manipulation, delusion, even psychosis- comparisons with The Stepford Wives and Rosemary's Baby are legitimate.
Clintus Maximus
Super Reviewer
The Wicker Man Quotes
Discussion Forum
Discuss The Wicker Man on our Movie forum!
News & Features