This Film Is Not Yet Rated
(2006)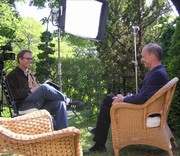 TOMATOMETER
AUDIENCE SCORE
Critic Consensus: A fascinating and entertaining film that will open many eyes to the often-questioned tactics of the MPAA and their ratings sytem.
Tickets & Showtimes
This Film Is Not Yet Rated Trailers & Photos
Movie Info
This documentary investigates Hollywood's best-kept secret: the MPAA film ratings system and its profound impact on American culture.
more
Watch it now
Cast
News & Interviews for This Film Is Not Yet Rated
Critic Reviews for This Film Is Not Yet Rated
Audience Reviews for This Film Is Not Yet Rated
Almost right after watching A Serbian Film, I stumbled across a documentary that addressed the idea of corrupt movie censorship head-on, and the result is so much more rewarding.
Interviewing many of today's filmmakers who have had their films sanctioned by the MPAA, director Kirby Dick tries to get at the heart of what exactly is the criteria used when applying these ratings - G, PG, PG-13, R, NC-17 - to films, and who are the people who make such decisions. What follows is something quite disturbing. From first hand accounts of people who have worked at the MPAA as well as filmmakers who have had to battle to get their films "properly" rated, we learn that there is no real criteria that distinguishes an R from an NC-17, and that the decision makers are not only anonymous to the public but security measures have been set up to protect these people from ever being known.
This Film is Not Yet Rated shows just how much a particular rating can affect the box office performance of your film, and beyond that, how accessible your film will be to the general public. In one scene you learn that most theatres and big retail chains will not carry an NC-17 rated film. Talk about limiting freedom of expression. Also, through comparisons between how lenient the MPAA is towards violence as opposed to sex, how big studio films will receive detailed and specific ways to get their films tailored to a specific rating while independent filmmakers are left with nothing more than a vague response, this documentary reveals an organization that doesn't know what it's doing. Instead, it is a system designed as a false safeguard to parents based on some false moral ground that Uncle Sam is watching out for you and that "somebody is thinking of the children." But it's a joke. Filmmakers can argue their ratings on what they think is suitable for a particular rating, but if there are no standards set out for these ratings, how can any of these ratings be legitimate?
½
It's a more informal documentary that I wasn't expecting. It was pretty entertaining though. MPAA seems like a sketchy organization.
Discussion Forum
Discuss This Film Is Not Yet Rated on our Movie forum!
News & Features