Ticks
(1994)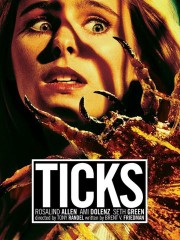 Ticks Trailers & Photos
Movie Info
Oversized mutant ticks start terrorizing a nearby campground and eating its campers.
more
Republic Pictures Home Video
Cast
News & Interviews for Ticks
Critic Reviews for Ticks
Audience Reviews for Ticks
Richard Davis
★★ (out of four)

Here we have an extremely bad movie, made somewhat bearable because it is so bad. I get a certain amount of pleasure in watching low budget B movies, and if any movie ever qualified, it's this one.

A group of cliched and stereotypical kids head to the mountains to do some camping. We have the brain, the beauty, the brawn, the geek...etc. Once in the woods they find themselves being hunted by an infestation of man killing ticks! I guess they forgot their Raid.

The casting for this movie is pretty strange. First we have Ami Dolenz, daughter of Mickey Dolenz from The Monkees. Then we have Peter Scolari, who was the other half of "Bosom Buddies" with Tom hanks. Seth Green, who was the kid in Woody Allen's "Radio Days". Next is Ron Howard's brother Clint Howard and their father Rance. Then soap opera actor Ray Oriel. Finally, Alfonso Ribeiro from "Fresh Prince of Bel Air". How they all got here, I don't know.

[IMG]http://img.photobucket.com/albums/v48/Zeppo1/Ticks_zps91e8a808.jpg[/IMG]
Steve Smith
This was not as bad as I thought it would be. Still, the narm charm of the B-movie wasn't enough to make it good, just a guilty pleasure.
M H
Discussion Forum
Discuss Ticks on our Movie forum!
News & Features