Transformers: Dark of the Moon
(2011)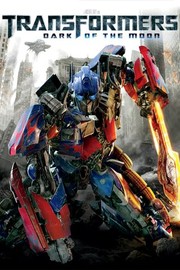 TOMATOMETER
AUDIENCE SCORE
Critic Consensus: Its special effects -- and 3D shots -- are undeniably impressive, but they aren't enough to fill up its loud, bloated running time, or mask its thin, indifferent script.
Transformers: Dark of the Moon Trailers & Photos
Movie Info
Shia LaBeouf returns as Sam Witwicky in Transformers: Dark of the Moon. When a mysterious event from Earth's past erupts into the present day it threatens to bring a war to Earth so big that the Transformers alone will not be able to save us. -- (C) Paramount
more
Cast
News & Interviews for Transformers: Dark of the Moon
Critic Reviews for Transformers: Dark of the Moon
Audience Reviews for Transformers: Dark of the Moon
After the huge disappointment that was "Revenge of the Fallen," I felt myself losing faith in the Transformers universe, however, I am pleased to say that "Dark of the Moon" is an improvement. 50 years ago when Neil Armstrong landed on the moon, he was the first to discover the alien race. The ship that was found on the moon contained the planets leader: Sentinal Prime. This fake backstory opened the world a bit more and left room to expand the story. As our heroes are once again running for their lives, we find ourselves doing something that both of the previous films failed, displaying real emotion. There are many deaths presented here, and through each and every death, no matter how big or little, you care for every one. Yes, the dumb humor is as bad as ever, but this film seems to care a little more as well. This film may not live up to the original in terms of fun and witty action, but this film has all the emotion and storytelling that the first two failed upon. "Transformers: Dark of the Moon" is awesome summer entertainment!
½
This movie never had a chance with critics. The franchise had an awful start there's no doubt about it and will forever be a CGI action orgy, but DotM actually makes an effort with a coherent sensible story and character intrigue.

Transformers 3 isn't as dumb as its predecessors and definitely boasters enough of a spectacle to be worth every bang of your buck. The story's not as simple and shallow as skeptics claim, with enough twists and turns in the first 1/3 to keep the viewers interested. (but then predictably stumbles into an action-orgy as things draw to an end)

It's nowhere near being a masterpiece, there are some glaring issues with the dialogue/script that needed tightening and quite a few plot holes that weren't addressed. (Why not nuke the city? Where was the entire US army?) but I can forgive a lot of this because many also ignored the issues with Cameron's cliche filled world of "Avatar"

The biggest highlight of this movie is the sheer entertainment value. The visuals are absolutely astounding to the point where I was having a hard time processing the volume of amusement that was being handed to me.

For an alien invasion, action flick, that started with a little boy/frat boy demographic; Transformers 3 exceeds expectations. It's a great watch if you give it a chance rather than letting the first 2 films sour expectations.
Transformers: Dark of the Moon Quotes
Laserbeak: Pleasure working with you.
Carly Miller: Oh my God. What's Sentinel doing here?
Dylan: Watch. They're spreading hundreds of pillars around the globe right now. In just a few hours, they're going to launch them into orbit and bring Cybertron into our atmosphere. The red one there controls the rest. He triggers that, it starts the whole thing.
Sam Witwicky: Optimus?
Optimus Prime: What your leaders say is true. This was all my fault. I told them whom to trust. I was so wrong.
Sam Witwicky: That doesn't make it your fault. It just makes you human for a change.
Optimus Prime: Remember this. You may lose your faith in us, but never in yourselves.
Discussion Forum
Discuss Transformers: Dark of the Moon on our Movie forum!
News & Features