Troy
(2004)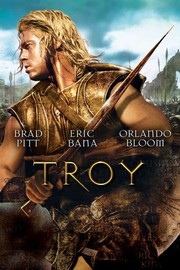 Tickets & Showtimes
Troy Trailers & Photos
Movie Info
Homer's sprawling tale of love and war in ancient Greece comes to the screen in all its grandeur in this epic-scale adventure. In 1193 B.C., Paris, Prince of Troy (Orlando Bloom), has fallen in love; however, the beautiful woman who has beguiled him is Helen, Queen of Sparta (Diane Kruger), who is wed to King Menelaus (Brendan Gleeson). While Helen is hardly immune to Paris' charms, this doesn't blunt Menelaus' fury when Paris steals her away from him. Menelaus' brother Agamemnon (Brian Cox), the power-hungry king of the Mycenaeans, is eager to expand his empire through Troy to the lands of the Aegean Sea, and he uses Paris' romantic slight against Menelaus as an excuse to wage an all-out war against the great walled city. Priam, King of Troy (Peter O'Toole), summons his armies, led by Prince Hector (Eric Bana), to meet the onslaught of Agamemnon's forces, but while the great city has yet to yield in a battle, Agamemnon has a formidable ally -- Achilles (Brad Pitt), a mighty and seemingly unstoppable warrior whose presence could tip the scales in Agamemnon's favor. Sean Bean, Julie Christie, Saffron Burrows, and Rose Byrne highlight the film's supporting cast. ~ Mark Deming, Rovi
more
Cast
News & Interviews for Troy
Critic Reviews for Troy
Audience Reviews for Troy
½
Based on Homer's The Iliad, one of the most famous tale's ever told, Troy has all the usual Hollywood epic ingredients; an American hero with bulging biceps sporting an odd accent, a supporting cast of British character actors who routinely show him up (especially Peter O'Toole who brings some real humanity to his somewhat underwritten role) and a soundtrack of the usual faux-folk warbling and penny whistles that seem to mean "ye olden days" to US audiences. Brian Cox is actually pretty good fun as the megalomaniacal king and Orlando Bloom's fresh faced vulnerability that I find usually compromises him in leading roles actually works to his advantage here. To be honest, all the characters are really just stereotypical "heroes" with little insight or depth but it has a sense of spectacle that reminded me of the similar old school historical adventures that pleasantly pass rainy Sunday afternoons. The fact is your enjoyment of this film is entirely dependent on whether or not you can swallow Brad Pitt as an ancient Greek hero and I have to say as ridiculous a casting choice it was, he does bring a hell of a lot of presence to the screen. It's no Gladiator, but compared to dim-witted trash like Clash Of The Titans it's a masterpiece.
Troy is loved by the public, and I respect that, but as a film lover I did not find it as entertaining as everyone else. The storyline was boring in my opinion and easily forgettable. The cast was a bunch of actors girls can sweat for and thats pretty much it. The action scenes are great, i will admit that, much just action doesn't make a good film. Troy can be loved by everyone for all I care, I just did not like it very much.
Jim Careter
Super Reviewer
Troy Quotes
Achilles: Imagine a king who fights his own battles. Wouldn't that be a sight.
Achilles: Play your tricks on me. But not on my cousin.
Odysseus: You have your swords. I have my tricks. We play with the toys the gods give us.
Agamemnon: Achilles is one man!
Odysseus: Hector is one man! Look what he did to us today!
Agamemnon: I don't care about the man's alliegence, I care about his ability to win battles!
Odysseus: Hector fights for his country! Achilles fights only for himself!
Achilles: We men are wretched things.
Discussion Forum
Discuss Troy on our Movie forum!
News & Features