True Romance
(1993)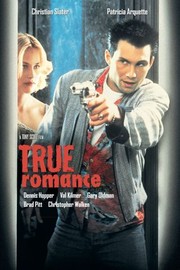 TOMATOMETER
AUDIENCE SCORE
Critic Consensus: Fueled by Quentin Tarantino's savvy screenplay and a gallery of oddball performances, Tony Scott's True Romance is a funny and violent action jaunt in the best sense.
Tickets & Showtimes
True Romance Trailers & Photos
Movie Info
Quentin Tarantino scripted this wild and wooly blend of action and dark comedy, which reached theaters a year before his breakthrough hit Pulp Fiction. Clarence Worley (Christian Slater) is a well-meaning but socially unskilled comic-shop clerk whose idea of a big night out is catching a Sonny Chiba triple-feature at a downtown grindhouse. Clarence is celebrating his birthday in just such a manner when he meets a beautiful girl named Alabama (Patricia Arquette), and it's love at first sight for both of them. Clarence's enthusiasm isn't dampened much when he discovers Alabama is actually a prostitute who was paid by his boss to bump into him; she's only been in the business for a few days, and is more than eager to give up streetwalking to be with Clarence. However, Alabama is certain her pimp, Drexl (Gary Oldman), will not be happy; he's an ill-mannered sort with mob connections and a fondness for violence. Chivalrous Clarence offers to break the news to Drexl and collect her belongings, but he doesn't tell her he also plans to kill Drexl while he's there; a melee breaks out that leaves Drexl and his henchmen dead. Clarence grabs a suitcase that he thinks contains Alabama's clothes, but he discovers it instead holds five million dollars' worth of cocaine. The couple hits the road for California, planning to sell the dope and enjoy the good life in South America with the proceeds, but soon a group of very unhappy underworld characters are after them, as well as the police. True Romance also stars Dennis Hopper as Clarence's father, Christopher Walken as a mob boss who wants his cocaine back, Brad Pitt as a cheerful stoner, and Val Kilmer as the ghost of Elvis Presley. ~ Mark Deming, Rovi
more
Watch it now
Cast
News & Interviews for True Romance
Critic Reviews for True Romance
Audience Reviews for True Romance
½
True Romance is a stellar romantic crime film that is brilliantly directed by Tony Scott with a well written script by Quentin Tarantino. With a great cast of terrific actors, True Romance is a must see crime picture that is sure to delight movie buffs. This is an exhilarating and highly entertaining film from start to finish that illustrates the brilliant direction of Tony Scott and original writing style that has Quentin Tarantino famous. This is one of the best crime films that I have seen, and the cast itself is one that is sure to delight filmgoers everywhere. Every actor here gives something to the film to make it that much better, and the two leads were great as well. There are some darkly humorous parts here and there to compliment the serious tone of the film, and everything works well enough to keep you engaged from start to finish. Over the course of his career Tony Scott has made some great films. Forget Top Gun as being his best, it isn't. This is his strongest effort. I feel that he really became a confident director with this movie, and he felt even more comfortable behind his camera. Top Gun was a decent affair, but quite overrated. But True Romance is his masterwork. This is simply put an effectively well directed picture that has a truly unique, crazy plot with a memorable cast of talented actors. Tony Scott and Quentin Tarantino have created something great here, and it delivers a truly awesome film going experience that you soon won't forget. If you come across True Romance, definitely give it a view, you won't be disappointed. Tony Scott would direct much more exhilarating films in terms of pulse pounding action, but they would also be fairly hit and miss. But with True Romance, he uses the basics of a simple plot, and it makes for a much more convincing and enjoyable movie.
pulpy, hip, clever, funny and endearing the way 90s cinema was.
True Romance Quotes
Drexl Spivey: Now see, we're sitting down here--ready to negotiate. And you've already given up your shit. I'm still a mystery to you. But I know exactly where your white ass is comin' from. So if I ask if you want some dinner, and you grab an egg roll and started chattin' down, I'd say to myself "This motherfucker, he's givin' out like he ain't got a care in the world" and who knows? Maybe he don't. Maybe this fool is such a bad motherfucker. He don't have to worry about nothin'. He just sits down and watch my motherfuckin' TV. See?
Drexl Spivey: No thanks? What that mean?
Drexl Spivey: Now I know I'm pretty, but I'm not as pretty as a pair of titties.
Vincenzo Coccotti: What we are doing is having a game show and tell. You aren't telling me anything, but you're showing me everything.
Discussion Forum
Discuss True Romance on our Movie forum!
News & Features