Versus
(2000)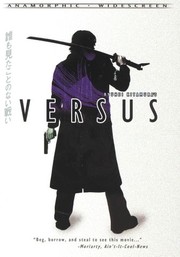 Versus Trailers & Photos
Movie Info
Evil Dead 2 meets Street Fighter by way of The Matrix in this wild and woolly zombie/yakuza/samurai/kung fu/splatter flick directed by Ryuhei Kitamura. Throughout the world there are 666 portals to the other side; the 444th is Japan and is called the Forest of Resurrection, where good has battled evil for time immemorial. The film opens with prisoner KSC2-303 (Tak Sakaguchi) and his fellow cellmate escaping a maximum-security prison and ending up in the forest where they are supposedly to be picked up by a band of gangsters in a shiny Mercedes and taken to a safer place. Instead, the gangsters try to use them and a female hostage (Chieko Misaka) as pawns in a larger power struggle. A gunfight ensues killing KSC2-303's colleague and the mob boss, but just as the standoff is about to yield more violence, an odd thing happens -- the dead get up and attack the living. In the chaos, KSC2-303 and girl disappear into the forest with a band of slickly coifed yakuza in hot pursuit. High-kicks, machine guns, and rampant disembowelments ensue. This film was screened at the 2001 Toronto Film Festival.
more
Cast
News & Interviews for Versus
Critic Reviews for Versus
Audience Reviews for Versus
A group of gangsters kidnap a girl and meet a pair of escaped convicts in the woods awaiting their boss for instructions. Little do they know that he's an unkillable demon who can re-animate the corpses of their dead victims...Well if that synopsis sounds ridiculous, it gets sillier than that! This is the kind of film where if it were done straight-faced, it probably would've been a disaster. Fortunately it has just the right amount of tongue in cheek humour to make it great fun. It has the same kind of mix of gore and laughs that the likes of A Chinese Ghost Story contains, and as a result comes across as a kind of Asian martial arts version of Evil Dead 2 or Peter Jackson's Bad Taste. Like those films, the budget was obviously tight, so you can spot some wires and there are a couple of ropey effects, but it's all part of the fun. Laugh at it or with it, it's an a musing bag of manga style lunacy and frenetic action that's basically just an excuse for constant fist fights, gun battles and samurai swords splattered with a liberal dose of gore. Unpretentious crowd pleasing nonsense.
Ryuhei Kitamura's style goes a long way, and Versus has plenty of it.The plot is definitely light for a film with nearly a 2 hour run time; however, despite this along with its low budget and lack of multiple settings, the sci-fi fantasy concept, wacky characters, and stylized action keep things afloat from beginning to end.When all is said and done, the action is the most memorable piece of this picture. Whether it be the plethora of guns, hand to hand combat, or swordplay, it all stands out because of its unique choreography. The lengthy and highly entertaining finale of a fight contains unique swords for both of the leads.Tak Sakaguchi thrives more on his action than acting, but in a film where characters have no names, it all works out. Hideo Sakaki is a confident and effective villain. Minoru Matsumoto and Kenji Matsuda are the over-actors of the bunch and they just barely stay under the level of annoyance.Versus is an action film that can be viewed as a cult classic. Zombies with guns anyone?
Discussion Forum
Discuss Versus on our Movie forum!
News & Features