Vincent & Theo
(1990)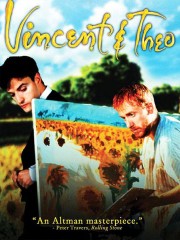 Tickets & Showtimes
Vincent & Theo Trailers & Photos
Movie Info
Robert Altman's masterful, sensitive portrait of Vincent Van Gogh (Tim Roth) and his brother Theo (Paul Rhys), based on letters written by the painter to his art-dealer brother is a beautiful story of love and compassion between two brothers. Altman unflinchingly shows Vincent, single-minded and intense in the increasingly desperate search to capture his unique vision on canvas, despite his horrible poverty and increasing mental illness. Theo, seeing his brother's genius -- and admiring and loving him despite Vincent's difficult personality and the strain this causes on Theo's own life -- sustains Vincent and tries to sell his work to an indifferent public. Finally, Vincent, in complete despair because of his illness, enters a sanitarium and spends several months of frenzied creative effort, producing some of his most beautiful and memorable paintings. When his work is finished, he kills himself. Theo, lost without his beloved brother, and himself very ill, soon dies. In a deeply insightful performance Tim Roth manages to capture the essence of the creative spirit and the pain and despair of mental illness. The final scenes of the movie, as Vincent hurries to finish his work, are profound and sensitive. Roth deeply understands and communicates Vincent's complex, and at times unpleasant, character as well as his genius. Paul Rhys is also unforgettable in a loving, compassionate but unsentimental performance. Rhys effectively communicates Theo's love for Vincent despite his flaws -- which explains why Theo is willing to sacrifice much of his own life to sustain him. Impeccably accurate, Vincent and Theo ranks as one of best biographical films ever made. It was originally aired as a four-hour mini-series on European television.
more
Cast
News & Interviews for Vincent & Theo
Critic Reviews for Vincent & Theo
Audience Reviews for Vincent & Theo
½
[font=Century Gothic]"Vincent and Theo" starts out with a modern day auction of paintings by Vincent van Gogh going for a fortune, then fades to Vincent(Tim Roth), a struggling painter in his native Holland talking to his brother, Theo(Paul Rhys), an art dealer living in Paris. Vincent is barely surviving on what allowance his brother can give to him. Even through all of this, Vincent shacks up with a prostitute/model, Sien(JIp Wijngaarden).[/font]


[font=Century Gothic]"Vincent and Theo" is a biopic that aims to focus on the relationship between Vincent and Theo van Gogh but there is too little of that in the film.(What there is, is similar to that of a banker to a customer.) This approach puts too much emphasis on the none-too-interesting personal life of Theo. However, Tim Roth does give a great performance as the troubled painter but it is unsettling having the leads played by two British actors while most of the supporting characters are played by Dutch and French actors.[/font]

[font=Century Gothic]The movie also seeks to take a more authentic approach to the life of Vincent van Gogh than previous movies might have.(I saw "Lust for Life" but too long ago to really comment on it.) In this movie, van Gogh is a painter who goes against the fashion of the day and takes more interest in real life than in still life.(For example, he paints Sien squatting over a chamber pot.) But it does not go far enough and simply comes off as stodgy.[/font]
While I sentimentally love the Doctor Who version of Vincent Van Gogh, this is the definitive dramatic take of an artist on the brink of madness with few pennies to his name.
Vincent & Theo Quotes
Discussion Forum
Discuss Vincent & Theo on our Movie forum!
News & Features