Vincere
(2010)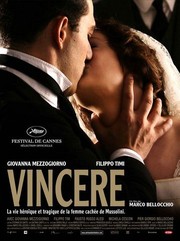 TOMATOMETER
AUDIENCE SCORE
Critic Consensus: Part political treatise, part melodrama, Marco Bellocchio's Mussolini biopic forsakes historical details in favor of absorbing emotion -- and provides a showcase for a stunning performance from Giovanna Mezzogiorno.
Vincere Trailers & Photos
Movie Info
This unusual and offbeat historical drama rests on a little-known conceit. Though seldom discussed in history books (and reportedly undisclosed for half a century), fascist dictator Benito Mussolini conceived an illegitimate son by a woman named Ida Dalser -- a son Mussolini allowed to be born, acknowledged, and then promptly denied for the duration of his life. The tale begins in early 20th century Milan, with Benito (Fabrizio Costella) working as the socialist editor of a controversial newspaper called Avanti. His dream in life involves triumphantly leading the Italian masses away from monarchy and toward a "socially emancipated future." He met the young and wealthy Ida (Giovanna Mezzogiorno) once before, in Trento -- where they enjoyed a brief exchange; they re-encounter one another during Mussolini's period at Avanti and it becomes clear that Ida has fallen deeply in love with Benito. She believes wholeheartedly in his ideals and his future as the leader of Italy -- to such an extent that she sells everything she has (her apartment, furniture, jewelry, and the beauty salon she owns) to fuel the development of his newspaper, Il Popolo d'Italia.While the two become romantically entangled, with Ida positively magnetized by Benito's charisma and Benito hooked on a lust for power, Benito quickly switches spiritual and political allegiances overnight, changing from an atheistic socialist to a deeply Catholic fascist -- Catholic, because an allegiance with the Vatican will enable him to wrest and retain control over Italy's government. Benito and Ida marry and parent a son together, Benito Albino Mussolini (circa 1915), but the marriage certificate soon conveniently disappears and Ida learns, to her horror, that Benito has married someone else. She unwisely begins to protest the situation -- so loudly and persistently that she's first forced into house arrest and then shoved permanently into an insane asylum -- raising key questions about the fate and future of her young son. On a stylistic level, director Marco Bellocchio films this historical material with the passion, theatricality, lyricism, and tragedy of a classical Italian opera. ~ Nathan Southern, Rovi
more
Watch it now
Cast
News & Interviews for Vincere
Critic Reviews for Vincere
Audience Reviews for Vincere
½
Without a doubt, this is the best movie I have seen this year! Political unrest, the rise of fascism and Mussolini, interspersed with actual vintage newsreel footage. There are eerie parrallels with Mussolini's relationship with Ida and Italy itself. As always, Mezzogiorno is equally stunning and enthralling to watch. This is a story that needed to be told and deserves recognition for its complexity and impact on Italian national identity and consciousness.
½
It is always a good sign for a biopic, which this really is not, to start in a totally unfamiliar place to the viewer. At the start of the stunning mad fever dream of a movie, "Vincere," Benito Mussolini(Filippo Timi) is not a fascist, but at the other end of the political spectrum, a socialist, in Milan in 1914, challenging god to strike him down. Unluckily for a lot of people in the future, he is not but Lady Ida Dalser(Giovanna Mezzogiorno, in a superb performance) is sure as hell impressed and they are soon making hot sex. So, Mussolini who lived on a steady diet of police confrontations where he shouted that the last king will be choked with the entrails of the last pope(Or is it the other way around? I get confused...) sees his opportunity with the beginning of World War I. While most of his colleagues want neutrality, he wants war, publicly claiming it as a revolutionary act. In a coldblooded way, he does have a point, since the world will never be the same way again, and the Russian Revolution has a lot to do with this. But in reality, he sees an opportunity to work the popular sentiment, not against it, creating a newspaper, Il Popolo D'Italia, that Ida sells all of her belongings to support.

And what writer-director Marco Bellocchio does wonderfully with "Vincere" is use the style of agit-prop movies, especially those by Sergei Eisenstein(yes, there is a baby carriage), with archival footage to ably dissect these movies and the movements they promote.(Movies are also everywhere in the film, not only in theatres, but in hospitals and outdoors, too.) With fascism, they dictate the reality they so much want to control every detail of. Ida is representative of the people in that she is drawn to Mussolini through animal magnetism, as an insanity took hold over the populace.(Another meaning of insanity is somebody who cannot accept reality.) And for many, fascism is an ideology that does its thinking for you. However, there are some things you cannot control and Mussolini could not how his story would end.
Discussion Forum
Discuss Vincere on our Movie forum!
News & Features