Visioneers
(2008)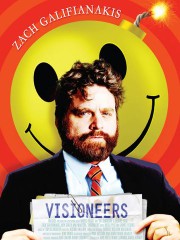 Visioneers Trailers & Photos
Movie Info
First-time feature filmmaker Jared Drake makes his directorial debut with this quirky black comedy set in the near future, and concerning a curious spike in cases of spontaneous human combustion. The Jeffers Corporation is the largest business in the history of humankind, and they got that way thanks to their strict philosophy of happiness through mindless productivity. But when people begin literally exploding due to unhappiness, Jeffers Corporation Level Three Visioneer George Washington Winsterhammerman (Zach Galifianakis) begins to fear that his time will come sooner rather than later. George lives a comfortable yet completely uneventful life, and when he starts having dreams in which he's the first President of the United States, his doctor informs him that they could be signs of impending explosion. Later, as the dreams become more frequent and his co-workers continue to detonate, George is prompted to reevaluate his mundane existence. Judy Greer, Missi Pyle, and James LeGros co-star in an existential black comedy featuring music by Tim DeLaughter of the Polyphonic Spree.
more
Cast
News & Interviews for Visioneers
Critic Reviews for Visioneers
Audience Reviews for Visioneers
Visioneers it's a criative surrealist black comedy that show other side of Galifianakis before the sucess of The Hangover.
Todd: My doctor says I have to pull the trigger on my gun once an hour or I'll explode. 

I'll start out by admitting that I didn't finish Visioneers. It was just that off-putting to me. It is really quirky and really understated, but it is also extremely dull and lifeless. It thinks it is being original and funny, but it isn't. I was struck by just how boring and lifeless the film. The dialogue is weak, the characters aren't interesting. I understand that the actors talk in a drab kind of way to get the point of monotony across, but everything the film was doing seemed like drab filmmaking of the worst kind. A movie can't be original and lifeless. Well it can, but it will fail like Visioneers. It's hard to put words to describe my hatred for this movie.

I didn't expect too much going in. The plot synopsis didn't really jump out at me. Done in a intelligent way, it has potential to be somewhat interesting, but nothing more. The way the film was done, it didn't even reach the point of somewhat interesting. The selling point for me were two actors I really like in Zach Galifianakis and the underrated and underused Judy Greer. These two actors aren't stars by any means and they can't carry a movie that doesn't have good dialogue or a good story. So they couldn't even come close to saving the travesty that was this movie. Their acting wasn't bad, they just had absolutely nothing to work with. 

I wouldn't recommend this to my worst enemy. One of the most depressing films I've watched in a long time, not because of the content, but because of how fucking dull it was. This is one of those movies that I just can't even begin to describe everything I disliked about it. All I can say is don't watch it. Galifianakis may be funny, but with this material, you won't laugh. You'll end up shutting it off 45 minutes in like I did. If you can make it to the end, more power to you. But I wasn't going to put myself through anymore torture.
Melvin White
Super Reviewer
Visioneers Quotes
Julieen: The FBI is in the woods. I think they're gonna raid the place. They've been arriving in a steady flow ever since the President made his announcement about the inhibitors. Somehow, someone leaked word that there was a party or a revolution happening here, it's political, or at least that's what they'd like to call it. They don't even know they're doing the same thing as everyone else, just using a different name. Entertaining themselves, missing it, lying. None of them care about pole vaulting, or dreams.
Sara: Happiness is: being happy... What the fuck am I supposed to do with that?
Discussion Forum
Discuss Visioneers on our Movie forum!
News & Features