Wasabi
(2001)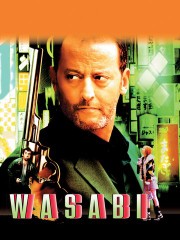 Wasabi Trailers & Photos
Movie Info
A cop from the city of lights finds adventure and romance in the Land of the Rising sun in this thriller. Hubert (Jean Reno) is a detective with the French police force who's the kind of cop who doesn't let little details get in the way of catching crooks -- and isn't afraid to speak with his fists if talking doesn't do the job. When Hubert gets in a dust-up with an innocent bystander while trying to apprehend a group of bank robbers, he learns the passerby was the son of the Chief of Police -- and Hubert is put on suspension for two months. Just as Hubert wonders what to do for the next 60 days, he learns that an old flame has died; 19 years ago, he was sent to Tokyo on assignment, and fell in love with a woman named Miko. Even though Hubert hadn't seen Miko in years, he was the sole beneficiary named in her will, and Hubert goes to Tokyo to sort out her effects. Once in Japan, Hubert meets Miko's daughter Yumi (Ryoko Hirosue), who doesn't think much of Hubert and appears to be unaware that he is her biological father. As Hubert tries to bond with Yumi, he examines the facts behind Miko's death and begins to suspect her death was no accident, and with the help of his buddy Momo (Michel Muller), he tries to find out the truth about her death.
more
Cast
News & Interviews for Wasabi
Critic Reviews for Wasabi
Audience Reviews for Wasabi
Jean Reno and Ryoko Hirosue are a Pair made for this movie. I'm becoming more and more an Jean Reno Fan with each movie I see him in. A great actor and plays the roll of a crooked cop to the T. This one is exciting and has a number of funny parts and the sound track would be enjoyable. Action throughout the film. Need to see Reno play more of these type parts and need a sequel to this one. 5 Stars
Bruce Bruce
Super Reviewer
Well, first off, it's got Luc Besson associated with it. That gives it promise. Then it's got one of my favourite actors in it, Jean Reno. That helps it deliver.

Jean Reno is a retired French commando who has become a Paris policeman. Unfortunately, he still tends to use Dirty Harry techniques. This gets him suspended. Then he finds out the lost love of his life has passed away, and he is the sole person mentioned in her will, so he goes to Tokyo for the funeral. There he finds out why she left him, and... other things, about her past that he did not know.

From there the movie heads off into typical Luc Besson territory, as something which should have been simple turns into something complicated. Not a film for someone looking for a brooding, deeply thoughtful flick, just a nice, fun, roller coaster.

Well-cast, well-written, well-produced, and well-directed. With a stronger comic touch, it's probably the weakest of his action flicks, but, with Luc Besson, that's still better than the best of most others.

If you liked The Transporter, you should enjoy this one, too.
Discussion Forum
Discuss Wasabi on our Movie forum!
News & Features