Working Girl
(1988)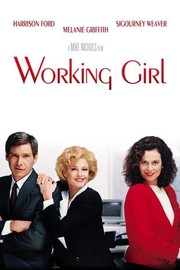 Working Girl Trailers & Photos
Movie Info
Unhappy with her job and her loser boyfriend, Melanie Griffith takes a secretarial post at a major Wall Street firm. Her boss is Sigourney Weaver, an outwardly affable yuppie whose grinning visage hides a wicked and larcenous propensity for exploiting the ideas of her employees. While Weaver is incapacitated, Griffith is compelled by circumstances to pose as her boss. Her inborn business acumen and common sense enable Griffith to rise to the top of New York's financial circles, and along the way she wins the love of executive (Harrison Ford). Things threaten to take a sorry turn when Weaver returns, but it is she who suffers from the consequences of her own past duplicity. Working Girl was Melanie Griffith's breakthrough film, proving than she was more than just the off-and-on "significant other" of Don Johnson. The film was later adapted into a brief TV series, starring a pre-Speed Sandra Bullock. ~ Hal Erickson, Rovi
more
Cast
News & Interviews for Working Girl
Critic Reviews for Working Girl
Audience Reviews for Working Girl
I'm sure this Oscar-winning Mike Nichols film about a capable woman, forced to wile her way up the corporate ladder, was quite groundbreaking for its time, but the big bouffant hairdos, the office pool of secretaries, and the crass Joisey accents just date this movie too much. I could also see the big three-way twist coming from a mile away.

Furthermore, Carly Simon's melodramatic, gospel-inspired, Oscar-winning song, "Let the River Run," - with all its talk about "sons and daughters" and "New Jerusalem" - seems more fitting for a Merchant Ivory movie about a diaspora born of religious persecution or something rather than professional and romantic hijinx.
Captivating workplace comedy follows an ambitious secretary as she attempts to climb the corporate ladder. Plot unfolds like the somewhat timeworn Cinderella story archetype, but brilliantly captures the zeitgeist by updating it to corporate America of the 1980s. Melanie Griffith is an absolute delight in an effervescent performance as Tess McGill, a secretary with "a mind for business and a bod for sin". She's supported by an talented cast that includes Harrison Ford and Sigourney Weaver in equally memorable parts. Classic film director, Mike Nichols, is in top form here and he is ably supported with an witty script by screenwriter Kevin Wade. Sometimes, success is the best revenge.
Working Girl Quotes
Jack Trainer: You're like one of those crazed cops that no one wants to ride with, aren't you? Whose partners all end up crazy or dead.
Cyn: Yeah, I should have checked the milligrams. Live and learn.
Tess McGill: You want to be taken seriously, you need serious hair.
Tess McGill: I have a head for business and a body for sin.
Discussion Forum
Discuss Working Girl on our Movie forum!
News & Features