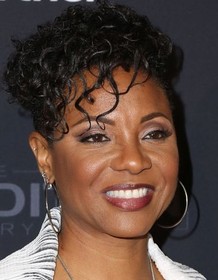 MC Lyte
Highest Rated: 85% Patti Cake$ (2017)
Lowest Rated: 8% An Alan Smithee Film: Burn, Hollywood, Burn (1997)
Birthday: Oct 11, 1971
Birthplace: Brooklyn, New York, USA
MC Lyte worked on a variety of projects during her entertainment career. She appeared in a number of television specials, including "Growing Up in the Age of AIDS: An ABC News Town Meeting For the Family -- With Peter Jennings" (ABC, 1991-92) and "NBA All-Star Stay in School Jam" (BET, 1991-92). She also appeared in various films, such as the dramatic musical "Fly By Night" (1994) with Jeffrey D Sams. Lyte also contributed music to "In Living Color" (Fox, 1989-1994) and "Woo" (1998) starring Jada Pinkett Smith. In the early 2000s, Lyte's music mostly appeared in films like the comedic adventure "Blue Crush" (2002) with Kate Bosworth, "Deliver Us From Eva" (2003) and the musical comedy "The Fighting Temptations" (2003) with Cuba Gooding Jr.. In the early 2000s and the 2010s, Lyte lent her talents to projects like "Ego Trip's Race-O-Rama" (VH1, 2004-05), "Regular Show" (Cartoon Network, 2010-17) and "Limitless" with Bradley Cooper (2011). Her credits also expanded to "Something from Nothing: The Art of Rap" (2012) starring Ice-T and "21 and Over" (2013). Most recently, Lyte appeared on "BET Hip Hop Awards 2014" (BET, 2014-15).
Photos
MC Lyte at arrivals for 50th NAACP Image Awards, Loews Hollywood Hotel, Los Angeles, CA March 30, 2019. Photo By: Priscilla Grant/Everett Collection
MC Lyte at arrivals for The 49th NAACP Image Awards Nominees' Luncheon, The Beverly Hilton Hotel, Beverly Hills, CA December 16, 2017. Photo By: Priscilla Grant/Everett Collection
MC Lyte at arrivals for Soul Train Awards 2016 - Arrivals, Orleans Arena, Las Vegas, NV November 6, 2016. Photo By: James Atoa/Everett Collection
PATTI CAKE$, (AKA PATTI CAKES), MC LYTE, 2017. PH: JEONG PARK/TM & COPYRIGHT © FOX SEARCHLIGHT PICTURES. ALL RIGHTS RESERVED.