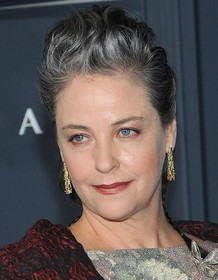 Alison Elliott
Highest Rated: 90% Lean on Pete (2017)
Lowest Rated: 33% The Eternal (1998)
Birthday: May 19, 1970
Birthplace: San Francisco, California, USA
A native of San Francisco, Alison Elliot moved with her family to Japan when she was four years old, and did not return until she was eight. She went on to become an Eileen Ford model--for Jordache jeans, among others--at age 14. By her mid-20s, this attractive brunette with striking blue eyes was a rising leading lady after her performances in "The Underneath" (1995) and "The Spitfire Grill" (1996).
Photos
WINGS OF THE DOVE, Alison Elliott, Linus Roache, Helena Bonham Carter, 1997
THE UNDERNEATH, Alison Elliott, Peter Gallagher, 1995. ©Gramercy Pictures
TRANCE, Alison Elliot, 1998
WYATT EARP, (standing l-r): Michael Madsen, Kevin Costner, Linden Ashby, David Andrews, (seated l-r): Catherine O'Hara, Mare Winningham, Alison Elliott, JoBeth Williams, 1994, ©Warner Bros.
THE SPITFIRE GRILL, Ellen Burstyn, Marcia Gay Harden, Alison Elliott, 1996. ©Columbia Pictures
WINGS OF THE DOVE, Helena Bonham Carter, Alison Elliott, Linus Roache, 1997
THE UNDERNEATH, Peter Gallagher, Alison Elliott, 1995. ©Gramercy Pictures
THE WINGS OF THE DOVE, Alison Elliott, Linus Roache, Helena Bonham Carter, 1997. ©Miramax
THE SPITFIRE GRILL, Alison Elliott, Ellen Burstyn, Marcia Gay Harden, 1996. ©Columbia Pictures
THE SPITFIRE GRILL, Alison Elliott, 1996. (c)Columbia Pictures
THE SPITFIRE GRILL, Alison Elliott, 1996. (c)Columbia Pictures
THE UNDERNEATH, Alison Elliott, 1995, (c)Gramercy Pictures
THE SPITFIRE GRILL, Kieran Mulroney, Alison Elliott, 1996, (c)Columbia Pictures
THE SPITFIRE GRILL, Alison Elliott, 1996, ©Columbia Pictures
THE WINGS OF THE DOVE, Alison Elliott, 1997, (c) Miramax
WINGS OF THE DOVE, Alison Elliott, Linus Roache, Helena Bonham Carter, 1997
WINGS OF THE DOVE, Linus Roache, Alison Elliott, 1997, (c)Miramax
TRANCE, Alison Elliot, 1998
Filmography
Movies
TV
| | | | Credit | |
| --- | --- | --- | --- | --- |
| No Score Yet | 82% | Law & Order | Unknown (Guest Star) | 2008-2009 |
| No Score Yet | No Score Yet | Living Dolls | Martha Lambert (Character) | 1989 |
| No Score Yet | No Score Yet | Who's the Boss? | Unknown (Guest Star) | 1989 |