20th Century Women
(2017)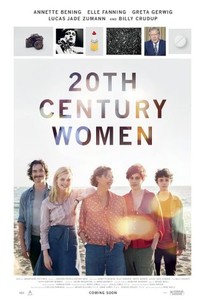 TOMATOMETER
AUDIENCE SCORE
Critic Consensus: 20th Century Women offers Annette Bening a too-rare opportunity to shine in a leading role -- and marks another assured step forward for writer-director Mike Mills.
20th Century Women Videos
20th Century Women Photos
Movie Info
During the summer of 1979, a Santa Barbara single mom and boardinghouse landlord (Annette Bening) decides the best way she can parent her teenage son (Lucas Jade Zumann) is to enlist her young tenants - a quirky punk photographer (Greta Gerwig), a mellow handyman (Billy Crudup) and her son's shrewd best friend (Elle Fanning) - to serve as role models in a changing world.
News & Interviews for 20th Century Women
Critic Reviews for 20th Century Women
Audience Reviews for 20th Century Women
½
Few films are imbued with such love for its characters. Their warmth and passions and imperfections make their 1979 Santa Barbara boardinghouse home a shangri-la, always in repair but forever whole. Writer Director Mike Mills has given us a film to cherish and hold tightly, something to squeeze when it seems like the world no longer makes sense. 20th Century Women is an argument that it does not need to, so long as you revel in the existence of those around you, even if they're temporary.
Kase Vollebregt
Super Reviewer
½
NO FEAR OF FLYING - My Review of 20TH CENTURY WOMEN (4 1/2 Stars) I grew up in a feminist household. My mother, a dutiful doctor's wife who returned to college after raising 8 kids and became self-actualized, opened up our eyes to what a strong woman looked like. She introduced us to books like FEAR OF FLYING and OUR BODIES OUR SELVES. She threw away her apron and started wearing go-go boots, hot pants and halter tops. In her 40s and 50s, my Mom found herself, and man was she something to behold. Add sisters who challenged the patriarchy and I experienced an upbringing I wouldn't trade for anything. I was rewarded with seeing the world through a different, much more humane lens. I share this because 20TH CENTURY WOMEN, the new film by writer/director Mike Mills (BEGINNERS, THUMBSUCKER), is a distinctively feminist film, a subtle blowtorch to sexism and misogyny, and easily one of the year's best. It's difficult to describe the story, because there really isn't a standard narrative. As much as BEGINNERS was Mills' homage to his father, 20TH CENTURY WOMEN is a love letter to his mother and the strong women who influenced his life. It's a rapturously beautiful, funny, yet very serious tribute. It tells the story of Mill's surrogate, Jamie (Lucas Jade Zumann), a teen who comes of age in Santa Barbara circa 1979 with the help of his single mother Dorothea (Annette Bening), their tenants William (Billy Crudup), a handyman, and Abbie (Greta Gerwig), a photographer who inserts herself into the art punk scene, and Julie (Elle Fanning), a classmate he wants to coax out of the friend zone. At first, I thought the pace and timing of the scenes were lax. The performances and the dialogue are razor sharp, but Mills and his editor, Leslie Jones, allow a lot of breathing room, which seemed to weigh down the tempo. As the movie went along, however, I noticed how consistently he employed this tone and how the actors seemed keyed into it across the board. It dawned on me that in lesser hands, this would have been a snappy comedy where the female characters existed to merely entertain us with their wit. Think THE KIDS ARE ALL RIGHT. Mills goes deeper with his thoughtful tone. The women aren't clowns whose mission it is to amuse us, but are three-dimensional, complete and deep characters. Often in female driven films, the male characters get pushed to the side and come across as cardboard villains. Not here. Zumann and Crudup have multi-layered characters to play as well, contributing greatly to the overall humanity of this movie. So frequently in the past, feminist films would play to the strident extremes of the cause, but here, it's quietly, lovingly subversive. It may not be everyone's cup of tea, especially those expecting something whackier, but for those who key into its distinct rhythms, you'll may just be thrilled. Mills uses a somewhat clinical approach in the way he introduces his characters, shifting perspective through multiple voiceovers, even using film clips and book quotes to immerse ourselves into his world view. To convey the feeling of what it was like to take a road trip in the 70s, for example, Mills speeds up the action and doctors his images of cars with an overlay of videotaped streaks of colors, which has the effect of mythologizing travel. It sure beats the indie trope of having someone wave their hand out the window. More importantly, Mills brings us one memorable scene after another, whether it's about female orgasms, the difference between BLACK FLAG and THE TALKING HEADS, or most indelibly, the normalization of menstruation. Through it all, nobody reacts in expected ways, especially Bening. She's so vivid and real, and ready to spar with anybody she encounters. I'm hoping this performance will finally garner her the Oscar she so richly deserves. She's been nominated 4 times and lost twice to Hilary Swank! It's Annette's time and not just because of her stellar career, but based on what I think is the role of her lifetime. The rest of the cast feel so natural and attuned to the script. It's a great ensemble. There's a lovely, heartbreaking scene with Greta Gerwig where she tells her that she never gets to see her son living in the real world, but only sees how he protects his mother from those realities. What Gerwig does in return is so heart meltingly lovely. They also have a discussion about what's right for Jamie, and it feels so crucial, as if the future of mankind rested on the way these women would steer this young man. Again, there's not a whole lot of story here, and that may be a flaw or a virtue, depending on your connection with these people. For me, it's such a highly personal film, even more so than BEGINNERS. My mother was Dorothea's age when this film takes place and their fates were very similar. I loved this film's gentle but assured approach. It may feel low stakes until you realize you're experiencing something novel, a group of people actually caring about how they each can learn and grow. It all wraps up with a beautiful coda, filled with sun-dappled splendor by cinematographer Sean Porter, and an image of Bening that will literally make your heart soar. This quiet, unassuming film may just change how you feel about the women in your life, and that's quite an accomplishment. `
Glenn Gaylord
Super Reviewer
20th Century Women Quotes
There are no approved quotes yet for this movie.
Discussion Forum
Discuss 20th Century Women on our Movie forum!