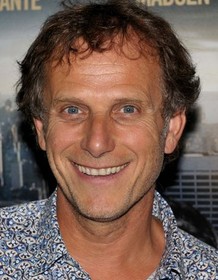 Charles Berling
Highest Rated: 96% Nelly & Monsieur Arnold (1996)
Lowest Rated: 20% Comedy of Innocence (2000)
Birthday: Apr 30, 1958
Birthplace: Saint-Mandé, France
One of France's most respected leading men, Charles Berling emerged as a critical darling in the mid-1990s with art-house affairs such as director Patrice Leconte's "Ridicule" and the tense psychodrama "L'ennui." A fixture on the Parisian stage throughout the 1980s, Berling made the transition to screen roles with bit parts in TV movies and miniseries. His breakthrough as an actor arrived when he was cast in the lavish 1996 costume comedy-drama "Ridicule," a role that earned him the first of three consecutive Best Actor César Award nominations. Berling racked up two more nominations in the next two years: for the dark comedy "Dry Cleaning" (1997) and the erotic melodrama "L'ennui" (1998). The critical attention was, for Berling, a commercial boon, and beginning in the 2000s the actor frequently appeared as the romantic lead in his films--making occasional forays into purely comedic roles and even a heartfelt performance as a gay art historian in Patrice Chéreau's "Ceux Qui M'Aiment Prendront le Train" (Those Who Love Me Can Take the Train).
Photos
SUMMER HOURS, (aka L'HEURE D'ETE), from left: Jeremie Renier, Dominique Reymond, Charles Berling, 2008. ©IFC
THE MAN OF MY LIFE, (aka L'HOMME DE SA VIE), director Zabou (standing), Bernard Campan, Charles Berling, on set, 2006. (c)Pan Europeenne Distribution
DRY CLEANING, aka, (NETTOYAGE A SEC), Charles Berling, Miou-Miou, 1997.
THE MAN OF MY LIFE, (aka L'HOMME DE SA VIE), Charles Berling, 2006. ©Pan Europeenne Distribution
MARIE CURIE, (AKA MARIE SKLODOWSKA-CURIE), CHARLES BERLING, 2016. ©NFP
THOSE WHO LOVE ME CAN TAKE THE TRAIN, Charles Berling, Dominique Blanc, Valeria Bruni Tedeschi, 1998
SCENES DE CRIMES, Charles Berling, 2000
LES DESTINEES, Emmanuelle Beart, Charles Berling, 2000
SCENES DE CRIMES, Camille Japy, Charles Berling, 2000
SUMMER HOURS, (aka L'HEURE D'ETE), Juliette Binoche (left of center), Charles Berling (center of frame, back), Edith Scob (front, center), Jeremie Renier (third from left), Dominique Reymond (bottom right), 2008. ©IFC
SUMMER HOURS, (aka L'HEURE D'ETE), back, from left: Juliette Binoche, Charles Berling, Jeremie Renier, 2008. ©IFC
SUMMER HOURS, (aka L'HEURE D'ETE), back, from left: Edith Scob, Charles Berling, 2008. ©IFC
SUMMER HOURS, (aka L'HEURE D'ETE), Charles Berling, 2008. ©IFC
SUMMER HOURS, (aka L'HEURE D'ETE), from left: Jeremie Renier, Charles Berling, 2008. ©IFC
SUMMER HOURS, (aka L'HEURE D'ETE), from left: Jeremie Renier, Charles Berling, 2008. ©IFC
SUMMER HOURS, (aka L'HEURE D'ETE), adults at top, from left: Isabelle Sadoyan, Juliette Binoche, Charles Berling, Alice de Lencquesaing, Jeremie Renier, Valerie Bonneton; adults in foreground: Edith Scob (center: gray bangs), Emile Berling (right, dark hai
MARIE CURIE, (AKA MARIE SKLODOWSKA-CURIE), FOREGROUND L-R: KAROLINA GRUSZKA (AS MARIE CURIE), CHARLES BERLING, 2016. ©NFP
SUMMER HOURS, (aka L'HEURE D'ETE), from left: Charles Berling, Jeremie Renier, 2008. ©IFC
THE MAN OF MY LIFE, (aka L'HOMME DE SA VIE), Charles Berling, 2006. (c)Pan Europeenne Distribution
THE MAN OF MY LIFE, (aka L'HOMME DE SA VIE), in focus: Bernard Campan, Charles Berling, 2006. (c)Pan Europeenne Distribution