The Bridge
(2000)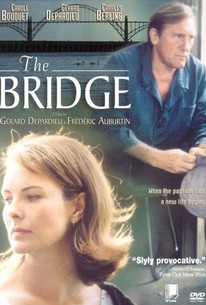 Movie Info
Actor Gerard Depardieu co-directed (with Frederic Auburtin) this drama about a married woman who falls in love with another man, which stars Depardieu and Carole Bouquet. Mina (Bouquet) is a movie buff with a husband, Georges (Depardieu), who's out of work, and a 15-year-old son, Tommy (Stanislas Crevillen). While Mina works part-time as a domestic for Claire Daboval (Dominique Reymond), the family is terribly short on money, so when Georges is offered construction work on a massive bridge project, he immediately accepts, even though the job site is far enough away that he'll only be able to come home on weekends. One day, while taking in a matinee screening of West Side Story, Mina meets a man named Matthias (Charles Berling), an engineer associated with the bridge project. It's love at first sight for the both of them, and while Mina has no desire to hurt Georges, who is a good and decent man, she has found another good and decent man whom she loves even more. Tommy, on the other hand, has to deal with this crisis in his parents' marriage while he's sorting out his own infatuation with Ms. Daboval's daughter, Lisbeth (Melanie Laurent).
Critic Reviews for The Bridge
Audience Reviews for The Bridge
[font=Century Gothic]"The Bridge" is set in a small town in France in 1962 where a showing of "Jules and Jim" has let out. Outside the theatre, Mina(Carole Bouquet) and her 15-year old son run into a wealthy friend of Mina's who offers her a job as a maid. After notifying her unemployed husband, Georges(Gerard Depardieu, who also co-directed), Mina accepts the position. (Georges used to run his own small building company but it went out of business. And he does not really want his wife to be working...) At a showing of "West Side Story", Mina is seated next to Matthias(Charles Berling) and they go out for drinks afterward. Matthias is an engineer on a massive bridge project that Georges finds work at. Mina again encounters Matthias at her place of work.(He is staying with friends there.) And Mina and Matthias start a passionate affair...[/font] [font=Century Gothic][/font] [font=Century Gothic]I know the setup of "The Bridge" sounds rather implausible and contrived but then remember this is a small town where random encounters are much more likely. And in a small town such as this, everybody pretty much knows everyone else. This movie shows perfectly how a small town can stifle a person. "The Bridge" takes a subtle matter-of-fact approach to the material which is rather refreshing. The film is very emotional but it does not overdo it. And there is sympathy for all the characters. Plus, there is excellent performances from all the lead actors. [/font]
The Bridge Quotes
There are no approved quotes yet for this movie.