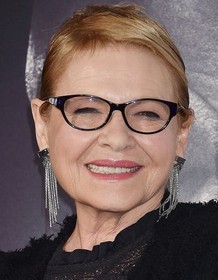 Dianne Wiest
Highest Rated: 95% Bullets Over Broadway (1994)
Lowest Rated: Not Available
Birthday: Mar 28, 1948
Birthplace: Kansas City, Missouri, USA
Academy Award-winning actress Dianne Wiest began her career as a highly respected New York stage veteran who initially carved out a reputation for intense dramatic chops, but found herself more frequently cast in comedy when her career expanded to include feature films. A favorite of filmmaker Woody Allen, the director offered her every stage actress' dream of playing complex, well-developed characters which she brought to sparkling life in films including "Hannah and Her Sisters" (1986), "Radio Days" (1987) and "Bullets Over Broadway" (1994). Hollywood generally gave the versatile actress less adventurous work and Wiest obliged with innumerable supporting roles as underwritten moms, though some of Tinseltown's more visionary directors captured her quirky qualities in "The Lost Boys" (1987), "Parenthood" (1989) and "Edward Scissorhands" (1990). Wiest's steady Hollywood offers financed the actress' frequent returns to the New York stage, and she remained a figure both on- and off-Broadway throughout her film and eventual primetime television career, culminating in the revered role of a therapist on HBO's "In Treatment" (2008-10), all which helped cement her status as one of Hollywood's most esteemed and beloved character actresses.
Photos
Dianne Wiest
THE BIRDCAGE, Dianne Wiest, 1996, © United Artists /
PARENTHOOD, Cast, 1989, (c) Universal
PARENTHOOD, (front row)Leaf Phoenix, Dianne Wiest, Ivyann Schwan, Alison Porter, Jason Fisher, Helen Shaw, Alex Burrall (on floor)Zachary Lavoy (back row) Keanu Reeves, Martha Plimpton, Harley Kozak, Rick Moranis, Mary Steenburgen, Steve Martin, Jason Roba
HANNAH AND HER SISTERS, Woody Allen, Dianne Wiest, 1986
COPS AND ROBBERSONS, Fay Masterson, Miko Hughes, Chevy Chase, Jack Palance, Dianne Wiest, Jason James Richter, 1994, (c)TriStar Pictures
FOOTLOOSE, Dianne Wiest, John Lithgow, 1984, (c) Paramount
THE HUMBLING, from left: Dan Hedaya, Dianne Wiest, 2014. ph: Christie Mullen/©Millennium Films
A GUIDE TO RECOGNIZING YOUR SAINTS, Dianne Wiest, Robert Downey Jr., 2006.©First Look Pictures
THE HUMBLING, from left: Dan Hedaya, Dianne Wiest, 2014. ph: Christie Mullen/©Millennium Films
THE ASSOCIATE, Whoopi Goldberg, Dianne Wiest, 1996, (c)Hollywood Pictures
SISTERS, from left: James Brolin, Dianne Wiest, 2015. ph: K.C. Bailey/©Universal
Life in Pieces, Dianne Wiest, 09/21/2015, ©CBS
THE PURPLE ROSE OF CAIRO, Dianne Wiest, 1985, (c)Orion Pictures
INDEPENDENCE DAY, Kathleen Quinlan, Dianne Wiest, Cliff De Young, 1983. ©Warner Bros
PRACTICAL MAGIC, Dianne Wiest, Stockard Channing, 1998, (c)Warner Bros.
RADIO DAYS, Seth Green, Dianne Wiest, David Warrilow, 1987
THE BIRDCAGE, Nathan Lane, Robin Williams, Gene Hackman, Dianne Wiest, 1996
COOKIE, (aka MI REBELDE COOKIE), Peter Falk (left), center from left: Emily Lloyd, Dianne Wiest, Emily Lloyd (right), 1989, © Warner Brothers
RADIO DAYS, Dianne Wiest, David Warrilow, 1987, (c)Orion Pictures