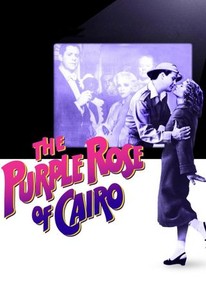 The Purple Rose of Cairo
1985, Comedy/Drama, 1h 22m
39 Reviews
10,000+ Ratings
What to know
critics consensus
Lighthearted and sweet, The Purple Rose of Cairo stands as one of Woody Allen's more inventive -- and enchantingly whimsical -- pictures. Read critic reviews
Where to watch
Rent/buy
Rent/buy
Rent/buy
Rate And Review
The Purple Rose of Cairo Photos
Movie Info
Unhappily married Depression-era waitress Cecilia (Mia Farrow) earns the money while her inattentive husband, Monk (Danny Aiello), blows their meager income on getting drunk and gambling. To assuage her loneliness, Cecilia escapes to the picture show and becomes transfixed with the movie "The Purple Rose of Cairo," and especially with its lead character, archeologist Tom Baxter (Jeff Daniels). When Tom literally steps off of the screen and into her life, both realities are thrown into chaos.
News & Interviews for The Purple Rose of Cairo
Audience Reviews for The Purple Rose of Cairo
Classic and classy Woody Allen. Tom Baxter, an adventurous movie character steps off the screen to woo Cecilia, a starry-eyed, Depression-era waitress and cinephile, but the character's portrayer, Gil Shepherd, a smooth, somewhat megalomaniacal rising star, is called in to counter-woo Cecilia so that the show can go on. Woody's escapist fantasia is blissful yet tragic, blurring the lines between reality and make-believe, the haves and the have-nots, and love and truth. It was nice to see young, wispy Dianne Wiest and bug-eyed Glenne Headley as slinky prostitutes. After watching so much cantankerous old Jeff Daniels on "The Newsroom," bright-eyed bushy-tailed young Jeff Daniels is a remarkable palate cleanser, with a great singing voice to boot! Mia Farrow is, of course, charismatic and vibrant with her delicate voice and damselly beauty. The last scene of her, dejected by the wretched realities of her life yet still utterly captivated by Fred Astaire and Ginger Rogers in "Top Hat," is just the most indelible final image in Woody's canon.

'The Purple Rose of Cairo' is such a cute, short and honest film, and it works because Woody Allen sticks with its concept all the way through, not opting out for the sake of realism. It has such a fantastical charm about it that you'll find it hard not to smile, and Mia Farrow and Jeff Daniels are both just so innocent and whimsical in their roles that they make one of the great movie romances. 'The Purple Rose of Cairo' ends on a serious note that might seem depressing at first, but it's actually quite optimistic when you think about it.

Woody Allen's The Purple Rose of Cairo has a highly creative and intelligent idea behind it. It wasn't just a simple the screen comes to life story, the witty dialogue made this far superior to a plain story. I feel the first half really did express and let this creativity flow. The second half which is more romantic was less down my alley. After about 45 minutes I became more and more out of tune with the film. Which is unfortunate since I was highly involved at first. Mia Farrow is once again a great actress, and is sexy. In fact I'd watch the film just for her. This is one of Woodys films that he doesn't star in as well as direct/write. I think it would've been a good idea to have him play the director of "The Purple Rose of Cairo", but that didn't happen so after 28 years nothing you can do. It was a feel good movie, but unfortunately didn't have enough ideas to keep it running. 3 stars

Woody Allen's The Purple Rose of Cairo is a fresh and creative idea that celebrates the very idea of film escapism. A poor woman living in New Jersey named Cecilia goes to the movies every week to escape from her hectic job as a waitress, when one day, one of the characters from the film "notices" she appeared at the theater to see his film five times. He steps off the screen and goes with her into the real world. It's a cool concept, and it's done with heart and a clear love for movies. Despite this movie being filmed in 1985, it seems like Woody Allen directed the actors in such a way to make them act like they were in a movie from the 30's (which is when the film takes place). So it seems like you're watching a movie that is much older than it actually is, which is interesting but comedic at the same time. When the fictional movie character fights Cecilia's husband, it's clear that Allen was tributing the now cheesy style of old black and white films. The ending further capitalizes on the idea of people escaping to the movies when things get bad, or when we make bad decisions. Like alcoholics drink alcohol to forget their problems, as drug addicts do drugs, Cecilia (along with the normal people in society) uses movie theaters as an escape- and what a beautiful escape it is.
See Details