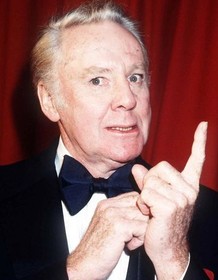 Van Johnson
Highest Rated: 100% Divorce American Style (1967)
Lowest Rated: 54% Yours, Mine and Ours (1968)
Birthday: Aug 25, 1916
Birthplace: Newport, Rhode Island, USA
A freckled-faced boy-next-door, actor Van Johnson became a big star at MGM in the 1940s and 1950s when he came to Hollywood from the Broadway chorus. He cornered the market on genial guys who romanced nice girls like June Allyson and Esther Williams in comedies and musicals, which made him a top box office draw during the war and into post-war America. On occasion, he was given a chance to show some dramatic grit in war pictures like "Thirty Seconds over Tokyo" (1944) and "Battleground" (1949). Johnson's career faded in the early 1960s, though he remained active on television and theater until the early 1990s. Johnson's air of sympathetic concern, boyish energy and sometimes larger-than-life acting style ensured his enduring status as one of the most well-liked symbols of Hollywood's Golden Age.
Photos
DR. GILLESPIE'S NEW ASSISTANT, Dick Simmons, Van Johnson, Richard Quine, 1942
THE CAINE MUTINY, Van Johnson, 1954.
GO FOR BROKE!, from left: Van Johnson, George Miki, Lane Nakano, Akira Fukunaga, Ken Okamoto (with ukulele), Henry Nakamura, 1951
WHEN IN ROME, from left, Van Johnson, Paul Douglas, 1952
TOO YOUNG TO KISS, Van Johnson, June Allyson, 1951
REMAINS TO BE SEEN, from left: Louis Calhern, Van Johnson, June Allyson, 1953
THE CAINE MUTINY, Richard Norris, Humphrey Bogart, E.G. Marshall, Robert Bray, Warner Anderson, Van Johnson, Jose Ferrer, 1954
THRILL OF A ROMANCE, Van Johnson, musical director George Stoll, 1945
SCENE OF THE CRIME, from left: Van Johnson, Tom Drake, 1949
THREE MEN IN WHITE, Van Johnson, Marilyn Maxwell, 1944
GO FOR BROKE!, from left: Van Johnson, Dan Riss, 1951
THE CAINE MUTINY, Van Johnson (far left), E.G. Marshall (standing), 1954 tcm1954r-fsct02(tcm1954r-fsct02)
WEEKEND AT THE WALDORF, Van Johnson, 1945
EASY TO WED, Van Johnson, Keenan Wynn, Lucille Ball, 1946
BATTLEGROUND, Van Johnson, Richard Jaeckel, George Murphy, John Hodiak, 1949
THE CAINE MUTINY, from left: Jose Ferrer, Van Johnson, 1954 tcm1954r-fsct09(tcm1954r-fsct09)
THE CAINE MUTINY, from left: Fred MacMurray, Jose Ferrer, Van Johnson, Robert Francis, 1954 tcm1954r-fsct01(tcm1954r-fsct01)
GROUNDS FOR MARRIAGE, from left: Kathryn Grayson, Van Johnson, 1951
EASY TO LOVE, from left: Van Johnson, Esther Williams, 1953
TILL THE CLOUDS ROLL BY, Robert Walker, (top, l to r): June Allyson, Lucille Bremer, Judy Garland, Kathryn Grayson, Van Heflin, (bottom, l to r): Lena Horne, Van Johnson, Tony Martin, Dinah Shore, Frank Sinatra, 1946