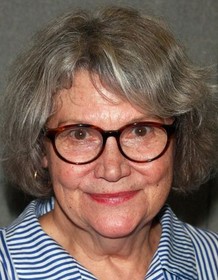 Frances Lee McCain
Highest Rated: 86% Gremlins (1984)
Lowest Rated: 21% Patch Adams (1998)
Birthday: Jul 28, 1944
Birthplace: York, Pennsylvania, USA
Born in York, Pennsylvania, Frances Lee McCain traveled the country growing up, living in New York, Illinois, Colorado and California. She studied philosophy at Ripon College before moving to London to attend the Central School of Speech and Drama. Returning to New York, she was cast in the Broadway production of Woody Allen's "Play It Again, Sam" before moving to San Francisco to join the permanent troupe of the American Conservatory Theater. After starring in a well-received production of "A Streetcar Named Desire" opposite Jon Voight and Faye Dunaway, she began landing TV roles, starting with an episode of "The Mod Squad." In 1974, she was given the lead role in her own series, "Apple's Way," on which she played the wife of an architect who moved from Los Angeles to a small town in Iowa. After the series ended, McCain moved on to a number of film roles, including a part in Albert Brooks's first film, "Real Life." Throughout the 1980s, McCain landed parts playing mothers in flicks like "Footloose" and "Gremlins." She tapered off her acting career over the next few decades, but had some notable parts in the first "Scream" movie and the TV series "Second Chances." In 2000, she returned to school, earning a Master's in Psychology from the California Institute of Integral Studies. She continues to act for the stage in San Francisco.
Photos
REAL LIFE, Charles Grodin, Lisa Urette, Frances Lee McCain, Robert Stirrat, 1979, (c) Paramount Pictures
FOOTLOOSE, Kevin Bacon, John Lithgow, Frances Lee McCain, Lori Singer, 1984, © Paramount /
GREMLINS, Frances Lee McCain, 1984, (c)Warner Bros.
GREMLINS, Zach Galligan, Frances Lee McCain, Hoyt Axton, 1984, (c)Warner Bros.