Tex
(1982)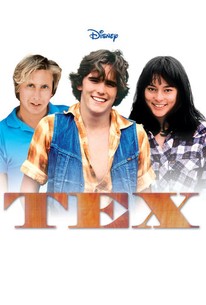 Movie Info
In this film, Tex McCormick is an Oklahoma farm boy who drifts into bad company and a dangerous lifestyle after his mother dies and his father deserts him. His older brother Mason struggles to keep his sibling on the straight and narrow, but he too has a cross to bear.
Audience Reviews for Tex
½
you git chur horse back, boy... why she's da one done convinced you to tell yer brother you love him.
Coxxie Mild Sauce
Super Reviewer
Matt Dillon has never been more subtly expressive and transparent, and maybe only funnier in Singles; Jim Meltzer is actually funny here as a straight man; there is some great camerawork and lighting. S.E. Hinton seems to be dealing with more Judy-Blume type issues here, so the movie works like a neorealist afterschool special.
Adam Mahler
Super Reviewer
The lousiest of S.E. Hinton's books to be brought to screen. Do yourself a favor and rent either the Outsiders or Rumble Fish they are so much better
Tex Quotes
There are no approved quotes yet for this movie.