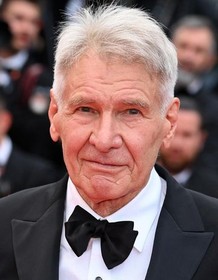 Harrison Ford
Highest Rated: 100% Hearts of Darkness: A Filmmaker's Apocalypse (1991)
Lowest Rated: 7% Paranoia (2013)
Birthday: Jul 13, 1942
Birthplace: Chicago, Illinois, USA
Harrison Ford became one of the world's best-known actors thanks to his status as two of pop culture's most enduring icons, Han Solo and Indiana Jones. A Chicago native, he attended college in Wisconsin before moving to Los Angeles. He was signed to a contract by Columbia Pictures, towards the end of the contract players system, and began making minor appearances in the studio's productions. His first credited role was in the Western "A Time for Killing" (1967). He made several television appearances in shows including "The Virginian" (NBC, 1962-71), "Gunsmoke" (CBS, 1955-75), and "Love, American Style" (ABC, 1969-74). He was cast by young filmmaker George Lucas in his nostalgia-tinged film "American Graffiti" (1973), playing a cocky street racer. The role didn't initially lead to a big upswing, and Ford continued stringing together small parts, including appearing in Francis Ford Coppola's "The Conversation" (1974). Discouraged, he began working regularly as a carpenter to supplement his income. Despite initial hesitation, Lucas eventually cast the actor alongside Mark Hamill and Carrie Fisher in his sci-fi adventure "Star Wars" (1977). The film became a phenomenon and one of the biggest box office hits of all-time, with Ford's Han Solo garnering a legion of loyal fans. While he wasn't catapulted to immediate movie stardom, film roles did come easier. The actor had supporting roles in "Heroes" (1977) with Henry Winkler and Sally Field and the World War II film "Force 10 from Navarone" (1978). He starred in the romance "Hanover Street" (1979) and made an appearance in Coppola's "Apocalypse Now" (1979). His stardom became cemented soon after with a return to space in the "Star Wars" sequel "The Empire Strikes Back" (1980). A new partnership with Lucas, this time with Steven Spielberg joining in, took Ford to a new level. Playing adventurous archeologist Indiana Jones in "Raiders of the Lost Ark" (1981) turned the actor into a bona fide star. He followed with what would prove to be another iconic role as Rick Deckard in Ridley Scott's "Blade Runner" (1982). He returned in short order to both of his famous heroes, playing Solo in "Return of the Jedi" (1983) and starring in "Indiana Jones and the Temple of Doom" (1984). He began to branch out from the big budget adventures when he starred in "Witness" (1985) playing a police detective working undercover in an Amish community. The role earned the actor his lone Academy Award nomination. He began headlining films on a regular basis and added comedy to his resume with a role opposite Melanie Griffith and Sigourney Weaver in "Working Girl" (1988). He closed out the 1980s by partnering with Sean Connery in "Indiana Jones and the Last Crusade" (1989). The following decade saw the actor become a box office draw in his own right. He starred in the dramas "Presumed Innocent" (1990) and "Regarding Henry" (1991). He took over as Tom Clancy's literary hero Jack Ryan in "Patriot Games" (1992) and "Clear and Present Danger" (1994). He added to his legacy by playing the wrongly accused Dr. Richard Kimble, opposite Tommy Lee Jones, in the blockbuster "The Fugitive" (1993). He alternated action films such as "Air Force One" (1997) and "The Devil's Own" (1997) with lighter fare like "Sabrina" (1995) and "Six Days Seven Nights" (1998). After starring with Michelle Pfeiffer in Robert Zemeckis's "What Lies Beneath" (200), Ford began keeping a slower pace. He starred in "K-19: The Widowmaker" (2002), "Hollywood Homicide" (2003), and the thriller "Firewall" (2006), before returning to the famous archeologist. The actor dusted off his bullwhip for "Indiana Jones and the Kingdom of the Crystal Skull" (2008) with Spielberg once again directing. Ford returned to the world of sci-fi by lending his talents to Jon Favreau's "Cowboys & Aliens" (2011) and starring in the adaptation of Orson Scott Card's classic novel "Ender's Game" (2013). He played true life baseball executive Branch Rickey in "42" (2013) about Jackie Robinson's integration of major league baseball. He also joined a Who's Who of action stars, including Sylvester Stallone and Arnold Schwarzenegger, in "The Expendables 3" (2014). After teaming with Blake Lively for "The Age of Adaline" (2015), he was given the chance to revisit the role that made him famous. The actor stepped into the familiar boots of Han Solo for J.J. Abrams's "Star Wars: Episode VII - The Force Awakens" (2015). Similarly, he teamed with Ryan Gosling in the long gestating sequel "Blade Runner 2049" (2017) as Rick Deckard. Ford, an avid outdoorsman, went on to star in a fresh adaptation of the Jack London classic "Call of the Wild" (2020).
Photos
Harrison Ford
RAIDERS OF THE LOST ARK, George Lucas, Steven Spielberg, Harrison Ford, 1981, (c) Paramount
FRANTIC, Harrison Ford, Emmanuelle Seigner, 1988. ©Warner Bros.
INDIANA JONES AND THE LAST CRUSADE, Harrison Ford, 1989
SIX DAYS SEVEN NIGHTS, from left, Anne Heche, Harrison Ford, 1998, ©Buena Vista Pictures
INDIANA JONES AND THE TEMPLE OF DOOM, Harrison Ford, 1984, sword
K-19: THE WIDOWMAKER, Harrison Ford, 2002, © Paramount
RETURN OF THE JEDI, Harrison Ford, 1983
DEAD HEAT ON A MERRY-GO-ROUND, Camilla Sparv, Harrison Ford, 1966
INDIANA JONES AND THE KINGDOM OF THE CRYSTAL SKULL, (aka INDIANA JONES 4), Harrison Ford, 2008. ©Paramount
THE FRISCO KID, Harrison Ford, Gene Wilder, 1979, (c) Warner Brothers
LITTLE OLD NEW YORK, Marion Davies, Harrison Ford, 1923
HANOVER STREET, Harrison Ford, 1979, (c) Columbia
SIX DAYS, SEVEN NIGHTS, Harrison Ford, Anne Heche, 1998
SIX DAYS, SEVEN NIGHTS, Harrison Ford, Anne Heche, 1998.
BLADE RUNNER, Harrison Ford, 1982, overcoat
CLEAR AND PRESENT DANGER, Harrison Ford, 1994. ©Paramount
GETTING STRAIGHT, Harrison Ford, 1970
THE SONG AND DANCE MAN, Harrison Ford, 1926
EXTRAORDINARY MEASURES, from left: Harrison Ford, John Crowley, on set, 2010. ph: Merie Wesimiller Wallace/©CBS Films