Blade Runner (The Final Cut)
(1982)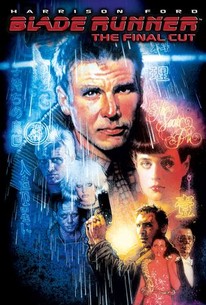 Blade Runner (The Final Cut) Videos
Movie Info
Visually spectacular, intensely action-packed and powerfully prophetic since its debut, Blade Runner returns in Ridley Scott's definitive Final Cut, including extended scenes and never-before-seen special effects. In a signature role as 21st-century detective Rick Deckard, Harrison Ford brings his masculine-yet-vulnerable presence to this stylish noir thriller. In a future of high-tech possibility soured by urban and social decay, Deckard hunts for fugitive, murderous replicants - and is drawn to a mystery woman whose secrets may undermine his soul. This incredible version features the definitive Final Cut of Ridley Scott's legendary Sci-Fi classic.
News & Interviews for Blade Runner (The Final Cut)
Critic Reviews for Blade Runner (The Final Cut)
Audience Reviews for Blade Runner (The Final Cut)
I caught this on the big screen before the long awaited sequel that hits next weekend. The film is an unique combination of action and futuristic film noir, Harrison maybe the lead but the film is ambitious in scope that it allows everybody to shine. The film has grown in time and I remember seeing the old voice over version all those years ago, this is a completely different film, the sequel won't follow that film because it didn't have the cult status appeal, the original directors cut is what kicked everything off. The film is incredible from beginning to end and you cannot fault Scott for tinkering because it added further depth and questions. The film is a must see on the big screen and the restoration brings the darkness to life. I'll have to watch the voice over version at some stage to compare what it was before the cult status took over. 29-09-2017.
Brendan Nicholls
Super Reviewer
Blade Runner (The Final Cut) Quotes
There are no approved quotes yet for this movie.