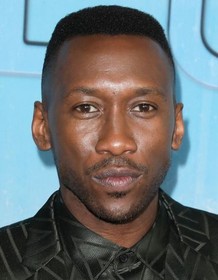 Mahershala Ali
Highest Rated: 98% Moonlight (2016)
Lowest Rated: 47% Free State of Jones (2016)
Birthday: Feb 16, 1974
Birthplace: Oakland, California, USA
Mahershala Ali was born Mahershalalhashbaz Gilmore on Feb. 16, 1974 in Oakland, CA. He enrolled in St. Mary's College of California on a basketball scholarship, but his passions switched from athletics to acting over the course of his tenure. Following graduation, Ali earned an apprenticeship at the California Shakespeare Theater, and then pursued a Master's degree in acting at New York University. One of Ali's earliest professional roles was that of Dr. Trey Sanders on the series "Crossing Jordan" (NBC 2001-07), shortly after which he starred on "The 4400" (USA 2004-07) as Richard Tyler. Around this time, Ali experimented with a rapping career, releasing the album Curb Side Service (2007) under the stage name Prince Ali. Ali then pursued acting on the big screen; one of his earliest major roles was in David Fincher's "The Curious Case of Benjamin Button" (2008), which he followed up with parts in the likes of "Crossing Over" (2009) and "Predators" (2010). Back on television, Ali lent his talents to "Treme" (HBO 2010-13) and "House of Cards" (Netflix 2013-), keeping one foot in the realm of cinema for the likes of "The Place Beyond the Pines" (2012) and "The Hunger Games: Mockingjay - Part 1" (2014) and "The Hunger Games: Mockingjay - Part 2" (2015) all the while. His name really began to accrue attention as time went on; Ali earned his first ever Oscar nomination and victory thanks to his supporting role in "Moonlight" (2016), in which he played a kindhearted drug dealer and the surrogate father to a young boy hiding his homosexuality. That same year, Ali costarred on the superhero series "Luke Cage" (Netflix, 2016-18) as villain Cottonmouth Stokes. Two years later, Ali starred in the dramatic film "Green Book" (2018) and lent his voice to the animated movie "Spider-Man: Into the Spider-Verse" (2018). Around the same time, Ali was also cast as the lead of the third season of the anthology series "True Detective" (HBO 2014-), and starred in the "Alita: Battle Angel" (2019) feature film.
Photos
PREDATORS, from front to back: Adrien Brody, Alice Braga, Walton Goggins, Oleg Taktarov, Mahershalalhashbaz Ali, Topher Grace, 2010. ph: Rico Torres/TM & Copyright ©20th Century Fox Film Corp. All rights reserved
THE CURIOUS CASE OF BENJAMIN BUTTON, Mahershalalhashbaz Ali (left), Taraji P. Henson (front right), 2008. ©Paramount
Mahershalalhashbaz Ali and Taraji P. Henson in "The Curious Case of Benjamin Button"
GREEN BOOK, FROM LEFT: DIMITER D. MARINOV, MIKE HATTON, MAHERSHALA ALI, 2018. PH: PATTI PERRET/© UNIVERSAL
THE HUNGER GAMES: MOCKINGJAY - PART 2, from left: Jennifer Lawrence, Mahershala Ali, Liam Hemsworth, 2015. ph: Murray Close/©Lionsgate
Mahershalalhashbaz Ali in "The Curious Case of Benjamin Button"
THE CURIOUS CASE OF BENJAMIN BUTTON, Mahershalalhashbaz Ali, 2008. ©Paramount
House of Cards, Mahershala Ali, 'Chapter 17', Season 2, Ep. #4, 02/14/2014, ©NETFLIX
House of Cards, Mahershala Ali, 'Chapter 17', Season 2, Ep. #4, 02/14/2014, ©NETFLIX
FREE STATE OF JONES, from left: Mahershala Ali, Matthew McConaughey, 2016. ph: Murray Close/©STX Entertainment
House of Cards, Mahershala Ali, 'Chapter 2', Season 1, Ep. #2, 02/01/2013, ©NETFLIX
House of Cards, Mahershala Ali, 'Season 2', 02/14/2014, ©NETFLIX
House of Cards, Mahershala Ali, 'Chapter 17', Season 2, Ep. #4, 02/14/2014, ©NETFLIX
House of Cards, Mahershala Ali, 'Chapter 17', Season 2, Ep. #4, 02/14/2014, ©NETFLIX
Law & Order: Special Victims Unit, Mahershala Ali, 'Unstable', Season 11, Ep. #1, 09/23/2009, ©NBC
House of Cards, Mahershala Ali, 'Chapter 35', Season 3, Ep. #9, 02/27/2015, ©NETFLIX
House of Cards, Molly Parker (L), Mahershala Ali (R), 'Chapter 36', Season 3, Ep. #10, 02/27/2015, ©NETFLIX
House of Cards, Mahershala Ali (L), Reg E Cathey (R), 'Chapter 37', Season 3, Ep. #11, 02/27/2015, ©NETFLIX
House of Cards, Mahershala Ali (L), Molly Parker (R), 'Chapter 38', Season 3, Ep. #12, 02/27/2015, ©NETFLIX
MOONLIGHT, MAHERSHALA ALI, 2016, PHOTO BY DAVID BORNFRIEND, ©A24