Moonlight
(2016)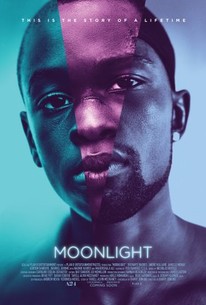 TOMATOMETER
AUDIENCE SCORE
Critic Consensus: Moonlight uses one man's story to offer a remarkable and brilliantly crafted look at lives too rarely seen in cinema.
Movie Info
The tender, heartbreaking story of a young man's struggle to find himself, told across three defining chapters in his life as he experiences the ecstasy, pain, and beauty of falling in love, while grappling with his own sexuality.
News & Interviews for Moonlight
Critic Reviews for Moonlight
Audience Reviews for Moonlight
What Moonlight achieves is both something different and familiar and amounts to nothing less than watching the birth of human identity on screen. The film chronicles three formative experiences at three different times of a man's life, each serving as its own one-act play examining our protagonist and his tortured sense of self. The results are breathtaking and deeply immersive, allowing the formation of a human being to take place before your eyes in such magnificent artistic strokes. This is a sensitive, sincere, beautiful movie that serves as an indie coming-of-age tale sliced into three significant parts. I was completely under its sway within ten minutes, finding its perceptive perspective and nuances to be convincingly naturalistic. I felt like I was watching a documentary of a young black man's life told with ferocious realism, or at least a loosely fictionalized version of a life informed by fully authentic personal experiences. It's a somewhat ineffable quality for slice-of-life movies but they live or die on whether the film carries an unforced sense of realism, telling larger truths with small details, each piece coming together to make the world and the character feel fully formed. Moonlight pulls you immediately into its orbit thanks to its authentic drama and observations. The three segments compliment one another as they build toward a young black man's understanding of his homosexuality. We've seen movies before where characters undergo sexual awakenings and from gay perspectives; it's practically a cottage industry unto itself in independent film. However, rarely have we seen this story from people of color. The expectations of accepted masculinity are entrenched at a young age, where "Little" (Alex Hibbert) is chided by, among others, his own mother Paula (Naomie Harris) for the "swishy" way he walks. It goes without saying that being gay is not exactly widely accepted in the Miami projects of the 1980s. This conflict of what makes a man is wonderfully symbolized with Juan (Mahershala Ali), an unexpected father figure that takes "Little" under his wing along with his girlfriend, Teresa (Janelle Monae). The kid wants to know how he can know if he's gay because it's certainly something he doesn't want. Juan doesn't pressure the boy or make big speeches about what it means to be a young black man in America. Instead, he tries teaching him to accept himself and provides an alternative home that serves as a refuge during his mother's long absences and crack-withdrawal tirades. There's a lovely moment where Juan teaches "Little" how to swim, and it's touching in how recognizably father/son the activity is, how much trust is involved and vulnerability, and how the film doesn't need to oversell the subtext. Juan definitely becomes the father figure that Chiron lives up to for the rest of his life. This first segment is dominated by their relationship but also Juan's sense of responsibility. He's making a living through selling drugs, including to "Little"'s own mother. In a very memorable and heated moment, Paula angrily calls out Juan for thinking he would make a better parent given the moral culpability of his own actions to her habit. The second segment zooms ahead to when Chiron (Ashton Sanders) is a teenager in high school and subjected to hostile bullying. The schoolyard taunts from his youth have morphed into something more ferocious and toxic, as a collection of bullies torments Chiron and looks to rob him of his personal connections to others. The central focus on the middle segment is about the growing relationship with Kevin (Jharrel Jerome), the childhood friend who Chrion crushes on. Their closeness takes a leap one fateful night that Chrion will always remember. It's an awakening and a confirmation of self, and it's only after having this fulfilling outlet cruelly taken from him that Chiron finally lashes out, with lifelong repercussions. It's an explosion we can see coming and one that feels fully set up. The second segment feels more familiar because of the age range and it's the one with the dawning of sexual realization, a story situation we've seen before. What elevates it is that it's a fairly direct carryover from the beginning segment, which means the personal issues have magnified for Chiron. His relationship with his mother has become even more frayed as he's grown, and what once was name-calling and questions over his maturation has become confirmed. Her addiction has become even stronger and she's harassing her own son for whatever meager money he's given from Teresa, his surrogate mother figure. Chiron is struggling to make sense of his feelings in an upbringing lacking support and clarity. You could examine the conclusion of this segment as an empathetic cautionary tale, as we see the years of abuse and measured choices that lead to that confrontation. The final segment is where Moonlight transforms into a late blooming unrequited romance that should steal your heart if it's still functioning. "Black" (Trevanta Rhodes) is a fully-grown adult that has seemingly followed in the footsteps of Juan in a life of low-level crime. He's hardened both emotionally and physically. The muscles will provide an intimidation factor missing during his youth if anyone questions his sexual leanings. He's burrowed into himself and the role he feels he must accept, but all of that changes the instant he gets an apologetic and searching phone call from Kevin (Andre Holland). Now working as a chef at a diner, Kevin reaches out to his old friend though even he can't fully explain why. This reawakens "Black"'s longing and he works up the courage to travel back to Miami to surprise the friend who meant so much to him. Their reunion is treated like the culmination of a romance that you may not have realized had you completely. After two segments of setup and years apart, you may find yourself projecting your thoughts to the screen, trying to compel these two men together. It's an extended sequence that moves at a gradual pace, a fitting tempo for a character racked by insecurities and suppression. By going forward he's taking a big risk, putting himself out there, and we desperately hope "Black" finds a sense of support. It's the segment where "Black" finds resolution with the major conflicts that have defined his life, and the climax of the movie is a deeply tender moment where an emotionally reserved man reaches out to another and lets his firmly fixed guard down in the process. I don't usually go into such a detailed plot synopsis with my reviews because I like to hit the basics and let the readers experience the story for themselves, but the pleasures and artistic triumphs of Moonlight are in how fully immersed and felt the movie becomes. By telling the story in three noteworthy sections, Moonlight provides an impressionistic statement about the formation of personal identity, specifically a young man growing up black and gay in a hostile environment to both. The movie also blows apart the argument made for 2014's Boyhood about how truly necessary it was to watch one young actor play the same part for 14 years. Here we have six different actors playing two different characters at three different points in time and the impact is no less great. Here is a movie that doesn't need a gimmick to have a larger emotional impact on its audience. Director/co-writer Barry Jenkins has a marvelously fluid and natural feel for his camera, swinging around the parameters of a scene to make the world feel more charged with energy. Jenkins is a born filmmaker and knows how to squeeze the most out of his scenes with gorgeous cinematography and an eclectic musical score that feels traditional with classical orchestration like churning strings layered and rearranged into something arrestingly new and yet still personal. There aren't many overly stylized choices, rather Jenkins tells his story with uncommon poise and treats one man's life like an opera, like the greatest story never told on film, like a life of complexity worth the deep dive. There's a classical lyricism to the presentation that reminded me of the works of Todd Haynes (Carol). There's one scene where Paula is strung out on crack and finds her son in the middle of a joyous high. Her face fills the frame, absorbing all of Chiron's world, and her euphoria is inter-spliced with jarring speed ramps in editing, meant to convey the mania and peace that pumps through her veins in this fleeting moment. It's a stylistic device that isn't overplayed and has genuine purpose. Jenkins is restrained from self-indulgences and keeps every aspect focused on reflecting the inner life of his lead. The very talented company of performers makes the movie even more powerful. Ali (Hidden Figures, Luke Cage) is creating serious awards buzz and it's deserving, though every actor in this movie is deserving of notoriety. Ali plays a man trying to do right by his own sense and he lets you see the troubles that wash over him. Should he insert himself into this young boy's life? Is he in a position to set an example? Ali has such paternal strength and tenderness while still displaying doubts and regret, hardly deifying this found father figure. Harris (Spectre) is wonderfully horrifying and heartbreaking in her role and has some big moments that convey her given completely into desperation. She's offended that others would deign replace her but does little to reclaim her title of mother and provider. Holland (Selma) has a world-weary smooth sense of wisdom to him, and his unassuming charisma helps unlock his friend's true feelings. The three actors who portray "Little"/Chiron/"Black" are each exceptional, giving different performances and interpretations, further supporting Jenkins' artistic thesis. Moonlight is a beautiful film told with such delicate care and a resounding sense of authenticity and personal detail. It swallows you whole and leaves you with the impression of a human life observed with tenderness, intimacy, empathy, and grace. It's about the people and experiences that help guide us onto the paths we take, and while there's a sense of heartache as we think of what might have been, there's also the serenity of accepting what has been and what can still be. Jenkins proves himself a superb talent who doesn't lose sight of his artistic goals with extraneous artifice. There's a lilting, lovely lyricism to the movie that elevates Chiron's life into feeling like poetry. This is a life we so rarely get to see given such an artistic and honest examination without condemnation or judgment. It's the story of a man embracing his identity and overcoming isolation and suppression. This disadvantaged young man is worth your emotions, your sympathies, and your attention. Moonlight is an alluring and heartrending film that manages to be deeply personal and universal at the same time. It's sublime. Nate's Grade: A
Nate Zoebl
Super Reviewer
Anthologies that jump through time or even change direction to focus on new character can be very hard to accomplish. The biggest worry is that the story to follow is not quite as engaging as its previous one. In the same vein as films like The Place Beyond the Pines, Moonlight has three core stories, focussing on one character as his life changes throughout decades. Unless you are willing to watch a film that takes its time, has little to no score, and serves as a building of character, rather than a dramatic thriller, then I truly believe you will be bored and not quite feel the impact. That being said, if you are in the right mindset to watch this film, it may very well just be the best film you will see all year. Here is why Moonlight stands as one of the greatest films of 2016 In this very strict three act feature, we follow Chiron (also known as Little or Black throughout his life) as he deals with a single parent who is struggling with drugs and wants nothing to do with him. On top of that, his fear of being ridiculed and beaten for being gay escalates rapidly day by day. Running into Juan and Teresa, a couple who becomes hellbent on raising Chiron in times of need, this adds some much needed levity to some very touchy subject matter. Their presence added to the emotional core of this story in the best way possible. Without giving too much of the film away, act one sees Chiron as an adolescent, act two as a teenager, and act three as a grown man. Each decade features him in a different light than the last, but you will feel as though every one of his arcs are earned. This is one of the most realistic characters I have seen on screen all year. If this premise doesn't already have you hooked, then I have to admit this film is not for you. That being said, if I have your attention, lets dive into a bit of detail on how certain elements are jaw-droopingly beautiful throughout the film. From the very first frame, you can tell the cinematographer wanted to capture every necessary in each individual frame. The shot-planning throughout is absolutely masterful. Being unstable when necessary, providing Mise En Scene to scenes that would only make a film lover become invested even more, and having a sense of calm in scenes that required nothing but silence or dialogue between characters to move a scene along, the technical aspects of this film are beyond perfect to say the least. From the sound of waves crashing to the subtlety of a frame being out of focus to reveal that a character feels uneasy, there is so much to take in. The biggest question I had when the first act finished, was if it was going to feel like an effective journey through Chiron's life. While I did find one aspect with the character of Juan to be a little incomplete, that is a very minor complaint in an otherwise spectacular picture. From beginning to end, the casting is fantastic and you truly believe that the cameras were rolling throughout their entire lives. This may be a stretch, but I think they pulled off what the film Boyhood needed 12 years to accomplish, while recasting the main character three times. Now, Boyhood was one of my favourite films of 2014, so I am just using it as an example, but that just goes to show how impressive Moonlight is as a whole. From beginning to end, every moment serves a purpose for the over-arching story. I could not be happier with this finished product. From incredibly believable performances, to wonderful storytelling, to superb direction and technical perfection when it came to its sound, Moonlight is easily one of my favourite films of the year. It may not be for everyone, but anyone who can put themselves in the proper mood to watch a film like this, or is a film lover in general, I don't see how you can dislike this picture. Every aspect is done with care and the filmmakers, especially Barry Jenkins, who wrote and directed this film, gives his all in creating an emotional, moving feature film. Moonlight is one of the quietest films I have seen in years, and yet, it is one of the most engaging. These characters are so well-written that it almost feels like a true story at times. Moonlight is not only a superb drama, but a beautiful and near perfect film in general. Highly recommended if you know what you are getting into.
Director Barry Jenkins takes his time constructing a narrative, slowly giving details that subtly pop up later in his story. It's a visual tableau utilizing color and contrast to create a distinct aesthetic for each of the three chapters. In this way, Jenkins imbues his rough, urban landscape with a gorgeous poetic sheen. The atmosphere has an increasingly dreamlike state. It's a leisurely paced drama where silence speaks volumes. It's a meditative reflection where moody rhythms percolate beneath the protagonist's circumstances. Jenkins touches on poverty, race, gender, sexuality, masculinity and identity. None of this is overt, but rather develops organically as it would when fulfilling one's own life. Jenkins inspires many questions: Who are we as a person? Are we the product of our environment? Can we rise above these obstacles? How do these events shape us into the adult we become? There are many more. Some appear to have answers. Others are open to interpretation. Chiron's experiences will touch each viewer in different ways that will encourage reflection for days afterward. His struggle may not be yours. However, it still involves the combustible components that are part of every human endeavor. In this way, Jenkins imparts a movie that speaks for all humanity. fastfilmreviews.com
Mark Hobin
Super Reviewer
Moonlight Quotes
There are no approved quotes yet for this movie.
Discussion Forum
Discuss Moonlight on our Movie forum!