Hidden Figures
(2017)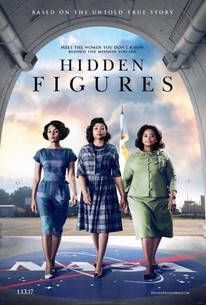 TOMATOMETER
AUDIENCE SCORE
Critic Consensus: In heartwarming, crowd-pleasing fashion, Hidden Figures celebrates overlooked -- and crucial -- contributions from a pivotal moment in American history.
Movie Info
HIDDEN FIGURES is the incredible untold story of Katherine G. Johnson (Taraji P. Henson), Dorothy Vaughan (Octavia Spencer) and Mary Jackson (Janelle Monáe)-brilliant African-American women working at NASA, who served as the brains behind one of the greatest operations in history: the launch of astronaut John Glenn into orbit, a stunning achievement that restored the nation's confidence, turned around the Space Race, and galvanized the world. The visionary trio crossed all gender and race lines to inspire generations to dream big.
News & Interviews for Hidden Figures
Critic Reviews for Hidden Figures
Audience Reviews for Hidden Figures
History is recounted often by men who have already gained notoriety in their time. Thanks to Margot Lee Shetterly, an almost forgotten footnote in American racial relations set in the Cold War space race has been brought to print and film. While we as a nation continue to struggle with basic tolerance of minorities, it is important to be reminded that human rights were being denied to Blacks to the detriment of our progress as a society and in this case technologically. Much like Kristen Dunst's character in "Hidden Figures" many are still oblivious to their own prejudice and privilege. So the importance of the intention of this film cannot and should not be understated. Unfortunately, that is the point at which my praise ends. It's not a bad film and the performances are all fine (except for the Bazinga guy from "The Big Bang Theory"). The problem is that for a movie that is predicated on the struggles of Black Americans (and, to a lesser degree, women in general) amidst a society that refuses to desegregate, those struggles are portrayed as inconveniences just so that you don't absolutely detest all of the white characters by the end. There is also the condescending manner in which racism is dealt with in the film. The moral of the story is that if you work harder, follow the rules, and appeal to the empathic side of your oppressors, you can find your worth in a world that treats you as a second class citizen. I'm here to tell you that that is bullshit. Racism is alive and well 70 years later, and regardless of the amazing accomplishments that Katharine Johnson, Dorothy Vaughn, and Mary Jackson played integral roles in, their children and grandchildren are still putting up with the same hatred that they did. It just has a different face. So, for all of the feel good moments, kind hearted characters, and uplifting soundtrack swells, one can't help but feel that the movie is only a fantasy. It's an idealistic and inspiring fantasy but nonetheless one that sells the real struggles of these women a bit short.
K Nife Churchkey
Super Reviewer
½
It seems like now, more than ever, cinema is producing the most films based on true racial stories of the past. Hidden Figures does this as well, but in a way that nobody has seen on screen yet, which is saying something. From not knowing this film was coming out, to watching a couple trailers that peaked my interest, to hearing that it's being considered for many categories at the #Oscars, it was a film that very quickly became a priority to see. After seeing Hidden Figures, I can't recommend this film enough. Not just to people who can relate with particular situations presented throughout this film, but it's a reminder of how far we've come as a society, as well as an important story about Nasa that many people (including myself) may not have known. There are very few people out there today that are aware of the story that Hidden Figures presents. I could be wrong, but so many people talk about the first moon landing and the discovery and loss of new planets, stories like these easily become forgotten. That is a very sad notion, because this is one of the most powerful films of 2016 in my opinion. The first three African-American women to work for Nasa, also end up becoming the biggest need in putting the first man into space. That is essentially the basic premise of Hidden Figures, and while that may seem like a story better told in a classroom, this may just be the most important film that has been displayed on the big screen in quite some time. When it comes to telling a story like this, you don't want to come off preachy, offending some viewers along the way. It is impeccable that the direction is handled with care and casting the right people to relay the important messages is just as key. Janelle Monáe, Taraji P. Henson, and Octavia Spencer are all superb in their respective roles here, along with some surprisingly good scenes with Jim Parsons and Kevin Costner. In my opinion, Taraji P. Henson stole the show in setting the diminish of the border between races in motion. All three of them have their moments to shine, but there is something about Henson's performance that stood out the most to me. All in all, I didn't find myself complaining about too much when the film concluded, but I did look back and think that a few scenes could have been cut or trimmed down to shave off about 10-15 minutes. The first act is just as enjoyable as the rest of the film, but it admittedly takes its time to get moving. That being said, once it gets moving, it doesn't let up until the credits roll. The direction by Theodore Melfi was very sincere, hitting every right beat for the story at hand. I found myself applauding inside, each and every time a character was able to further their dreams. St. Vincent was a fantastic first feature film from Melfi and after seeing Hidden Figures, I can't wait to see what he comes up with next. He truly makes any dull moment bearable in this otherwise superb picture. In the end, Hidden Figures makes more than one powerful statement throughout its 127 minute duration, each as impactful as the last. This film is all about making a statement, but the editing, pacing, performances, and dialogue written impeccably by Allison Schroeder and Theodore Melfi was riveting. The first act is slightly too slow, but I was on the edge of my seat during the second and third. When you tell a true story, without making anything seem farfetched or stretched (which I am sure this film did in some capacity), you know you have made a quality film. You should be expecting this film to get quite a few awards nods and deservedly so. Hidden Figures may have a few minor issues here and there, but it's still one of my favourites from 2016.
½
After the end of 2012's Red Tails, I said to myself that those men of history deserved a better movie. By the end of Hidden Figures I was thinking the same thing for the unheralded African-American women of NASA in the 1960s Space Race. It's an inherently engrossing story that the public knows precious little about, and the biggest problem with director/co-writer Theodore Melfi's (St. Vincent) film is that is rarely breaks free from its formula for feel-good mass appeal. Rather than allowing us to absorb the complexities of the three women featured (Taraji P. Henson, Octavia Spencer, Janelle Monae) the movie wants us to just know about their struggles over injustice and inequality. That's a fine starting point but rarely do these women become fully fleshed out. They're kept as symbols, put-upon figures, and less as people. That allows them to have their Big Acting Moments where they uncork a snappy retort to institutional prejudice that is the kind of stuff meant for Oscar clip packages. Henson is given the most significant part but even her math genius feels like a crude Hollywood extrapolation of a stereotypical movie nerd. Monae was the one who left me most impressed with her feisty attitude and swagger. It's all a pleasing and moderately entertaining package but the presentation and artistically stilted character development hinder the movie's message. I would have preferred a documentary on the same subject, something that would allow further depth as well as the direct testimony of those women involved. I believe Henson's character is still alive and in her 90s, so there's no time to waste. Hidden Figures is a safe yet still appealing biopic that hits some of the right notes but lacks greater ambition. Not all films have to try and redefine their genre, but when you're giving the titular hidden figures of history their much-deserved spotlight, maybe a little more effort is deserving and necessitated. Nate's Grade: B
Nate Zoebl
Super Reviewer
Hidden Figures Quotes
There are no approved quotes yet for this movie.
Discussion Forum
Discuss Hidden Figures on our Movie forum!